Judith Hora
Associate Professor of Accountancy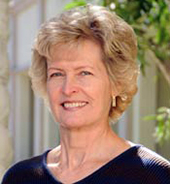 Degree
PhD, Virginia Commonwealth University, Accounting
MS, Texas Tech University, Accounting
BA, University of California at Los Angeles, Art History
Areas of Expertise
Accountancy
Selected Publications
State and Local Tax Concerns Regarding Digital Currency, Journal of State Taxation
Educational Competencies That Mid-Sized CPA Firms Value In Their Professional Accounting Staff, American Journal of Business Education
A Financial Analysis Case of Amazon.com and Barnes & Noble with Emphasis On The Impact of ROE Versus EPS, Journal of Business Case Studies
The Preferred Stock Dilemma of Appllo Technology: The Impact of SFAS #150, Global Perspectives on Accounting Education
"The folly of making EPS comparisons across companies: Do accounting textbooks send the correct message?", Journal of College Teaching & Learning.
Summary
Judith Hora is an associate professor of accounting in the School of Business Administration at the University of San Diego where she teaches financial accounting in the undergraduate program and financial and international accounting in the graduate programs. Her research focuses on international accounting in capital markets and has been published in a number of academic journals. Hora is a licensed CPA in the state of Texas.