Donald Helmich
Contact Information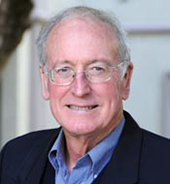 Donald Helmich
Professor of Management Science
Email | dhelmich@sandiego.edu
Phone | (619) 260-4874
Website
Office | Alcala West, Coronado 208
Professor of Management Science
Ph.D. University of Oregon, Industrial Management
MBA University of Oregon, Industrial Management
B.B.A. University of Hawaii, Production Management
Don Helmich, professor of Management Science, joined the faculty in 1975. Prior to completing his formal education, he served in the U.S. Army in Southeast Asia (Vietnam) with the Aviation Battalion of the 25th Infantry Division. He was a National Defense Education Act Fellow during his graduate work at the University of Oregon. He has extended his background in management science into research on executive succession with corporate organizations. He has published numerous refereed empirical journals that culminated in both a hard cover and paperback version of the book Executive Succession: Toward Excellence in Corporate Leadership. He was awarded graduate teacher of the year in 1991 and has received the Steber Professorship in 1993-1994. He was student at U.S.D. in 1961 and he saw the first construction of U.S.D. buildings in 1948-1949.
Selected Current Research
Journal Article, Academic Journal
Helmich, D. (2012). CEO SUCCESION AND ORGANIZATION TRANSITIONS: CASE OF STATE OWNED ENTERPRISES. Chinese Management Studies/Emerald Group Publishing Limited, 6 (4), 568-581.