Morgan Poor, Ph.D.
Assistant Professor of Marketing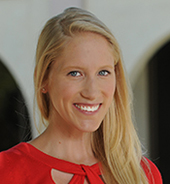 Email
poormorgan@sandiego.edu
Phone
(619) 260-7459
Office Location
Olin Hall 108
Degree
Ph.D. Indiana University, Marketin
M.A. University of Kentucky, Communication
B.S. Bowling Green State University, Visual Communications Technology
Areas of Expertise
Marketing
Selected Publications
A Content Analysis of Food References in Television Programming Specifically Targeting Viewing Audiences Aged 11 to 14 Years, Journal of Nutrition Education and Behavior
How images of other consumers influence subsequent taste perceptions., Journal of Marketing
The moderating role of emotional differentiation on satiation, Journal of Consumer Psychology
Summary
Morgan Poor received her Ph.D. in marketing from the Kelley School of Business at Indiana University in May 2012. At USD, Dr. Poor teaches introduction to Advertising and Promotion to undergraduate students. She also serves as a faculty advisor to the USD Ad Club and the USD Women's International Business Network. Dr. Poor's research, which has been published in the Journal of Marketing and the Journal of Consumer Psychology, focuses broadly in the area of consumer behavior, and more specifically in the areas of sensory marketing, satiation, and self-control. Her main stream of research examines the use of images in marketing communications, both firm generated and consumer generated, and factors that influence how these images affect important consumption outcomes. She also explores how factors such as emotional frames, message frames, and preference (in)consistent information, shape the consumption experience and influence outcomes related to satiation and self-control.