Amitkumar Kakkad, Ph.D.
Assistant Professor of Operations Management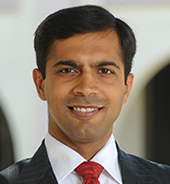 Email
amitkakkad@sandiego.edu
Phone
(619) 260-4219
Office Location
Olin Hall 340
Degree
Ph.D., London Business School, Operations Management
M.Res., London Business School, Operations Management
MBA, Crummer Graduate School of Business at Rollins College
B.S. Engineering, D.D. Institute of Technology, Chemical Engineering
Areas of Expertise
Decision Sciences, Management, Supply Chain Management
Selected Publications
An empirical investigation of the firm processes that enable extraction of innovation-driving insights from Unsolicited Customer Input
How does Unsolicited Customer Input drive Service Innovation? An exploratory study
Perspectives on Unsolicited Customer Input as a driver of Service Innovation
The antecedents and the impact of using Unsolicited Customer Input-driven insights in NSD
Perspectives on Service Innovation, Journal of Operations Management
Summary
Professor Kakkad currently teaches an undergraduate core course in Operations Management at USD, and has previously taught graduate and undergraduate courses in Simulation, Statistics, and Operations Management at other institutes such as the London School of Economics. Professor Kakkad's research interests include new service design and service innovation processes and the antecedents to service innovation; customer input as a driver of service innovation; and exploration of service creation, delivery and recovery processes from an empirical as well as an analytical point of view through case studies, surveys, and experiments.
Professor Kakkad has considerable corporate and startup experience gained in the United States, United Kingdom, and India, in industries ranging from oil and gas, chemical production, infrastructure, hospitality and entertainment, and logistics; to telecom, financial services, and outsourcing. He frequently engages with industry for research and consulting, and is actively involved in the not-for-profit sector.