Andrea Godfrey Flynn, Ph.D.
Associate Professor of Marketing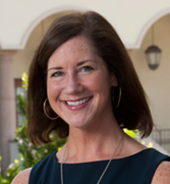 Email
andreaflynn@sandiego.edu
Phone
(619) 260-2377
Office Location
Olin Hall 107
Degree
Ph.D. University of Texas at Austin, Marketing
MBA, Babson College, Marketing
B.E. McGill University, Civil Engineering
Areas of Expertise
Marketing
Selected Publications
Motivating Customers to Adhere to Expert Advice in Professional Services: A Medical Service Context, Journal of Service Research
Physician Counseling of Overweight Patients About Preventive Health Behaviors, American Journal of Preventive Medicine
When is Enough Enough? Balancing on the Fine Line in Multichannel Marketing Communications, GfK Marketing Intelligence Review
Enough is Enough! The Fine Line in Executing Multichannel Relational Communication, Journal of Marketing
How Complementary and Substitution Effects Alter the Customer Satisfaction-Repurchase Link, Journal of Marketing
Working Papers
Do Satisfied Customers Always Buy More? The Roles of Satiation and Habituation in Customer Repurchase
Identifying Customer-Centric, Cross-Category Product Groups: A Product Segmentation Model and Its Relationship to Customer Segmentation Models
Do Satisfied Customers Buy More?
Summary
Andrea Godfrey Flynn is Associate Professor of Marketing at the University of San Diego, where she joined the faculty in 2012. She received her PhD in marketing from the University of Texas at Austin. Previously, she worked for several years in the consulting engineering industry. Her research interests involve applying empirical models of consumer purchasing behavior to guide customer management strategies in retailing and service settings. Her research has appeared in the Journal of Marketing, the Journal of the Academy of Marketing Science, Journal of Service Research, and the American Journal of Preventive Medicine.