Scott C. Handley
Manager of Recruitment, Marketing, and Alumni Relations, MSGL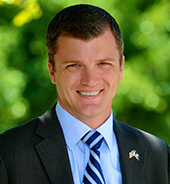 Summary
MSGL, University of San Diego, School of Business Administration
B.A., University of San Diego
Scott C. Handley has served in numerous capacities during his tenure at the University of San Diego. In 2006 he was appointed Assistant to the Dean at USD's School of Leadership and Education Sciences (SOLES). Shortly thereafter, he assumed an enrollment management role in the Office of Undergraduate Admissions where he was able to accomplish many things, most notably the creation of USD's first Student Veteran Organization (SVO), thus allowing Scott to kick-start a campus-wide movement to increase services for USD's burgeoning Student Veteran population. Scott managed numerous Veteran related campaigns, through National Science Foundation (NSF) grants and via internal mechanisms to raise awareness to Student Veteran issues. During his time in the Office of Undergraduate Admissions at USD, Scott participated on numerous expert panels across the country and served as the Keynote Speaker speaking to issues related to enrollment and recruitment strategies in higher education.
Since early 2012, Scott has served as the Recruitment, Marketing and Alumni Relations Manager for the MS in Global Leadership (MSGL) Program. This position is the perfect fit for Scott as it blends his enrollment and recruitment expertise with his knowledge and advocacy for our Veterans and Active Duty Service Members. Moreover, Scott has been a driving force in the professional diversification of the program through the utilization of sound and creative marketing strategies targeted at the civilian and corporate sector. His latest project was the creation of the "Conversations with a Global Entrepreneur" (CGE) Speaker Series where he also served as Moderator. The goal of CGE is to connect current students and Alumni with leaders who have proven themselves in the global marketplace. This new series seeks to host trailblazers in innovation, managers of all industries and individuals who have mastered the many intricacies of navigating a global supply chain and/or conducting business across multi-national boundaries.
Utilizing both the Montgomery and Post-9/11 GI Bill, Scott received his BA in History and Political Science from the University of San Diego in 2006 and completed his graduate studies at USD in 2012 with a MS degree in Global Leadership (MSGL). Via MSGL's unique hybrid-learning model, Scott's studies have taken him all over the world to places such as Canada, Greece, Chile, Turkey, Argentina, Germany and Peru. His love of travel and interest in global issues began when he joined the United States Navy in 1996 immediately after graduating from high school. Scott served six years in the Navy as a Hospital Corpsman and earned a Direct Commission as an Ensign in 2014. He currently serves as a Public Affairs Officer (PAO) at Navy Public Affairs Support Element (NPASE) West at Naval Air Station, North Island.