Jenny Wang
Lecturer in Marketing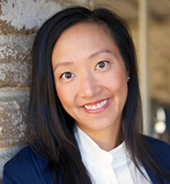 Degree
MBA University of San Diego, Marketing
BA University of Texas at Austin, Journalism
Summary
Professor Wang brings 15 years of marketing experience from companies such as Dell, 3M, Yahoo!, and Warner Bros. Recently, she served as the director of marketing for Yahoo! Music where she led the partnership marketing organization, promoting high profile relationships with MasterCard, Pepsi, and Nissan.
As part of her MBA coursework at USD, Wang studied at the ESADE School of Business in Barcelona, Spain. There, she completed International Marketing and Global E-Commerce Business classes. While working towards her MBA, she became interested in online music piracy and chose to write her final paper on the topic (Battle between content owners and content distributors). Upon graduation, she went to work for Yahoo! Music as the director of marketing.
In addition to teaching, she continues to work as a consultant for digital media and entertainment companies such as Warner Bros. She currently teaches Fundamentals of Marketing at USD.