Ryan Ratcliff
Contact Information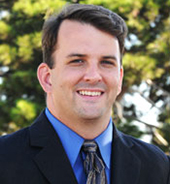 Ryan Ratcliff
Assistant Professor of Economics
Email | ratcliff@sandiego.edu
Phone | (619) 260-7560
Office | Olin Hall 211
Assistant Professor of Economics
Ph.D. University of California, Berkeley, Economics
A.B. Stanford University, International Relations and Economics
Ryan Ratcliff joined the faculty of the University of San Diego in 2008 as an assistant professor specializing in forecasting and macroeconomics. His research interests include the formation and updating of macroeconomic expectations, linkages between financial markets and the macroeconomy, state and regional economic forecasting, and the macroeconomic impact of housing cycles.
Prior to coming to USD, Professor Ratcliff spent three years at the renowned UCLA Anderson Forecast, where he was the primary author of the quarterly forecast for California, as well as numerous other reports on local economic forecasts and regional housing markets. He is widely quoted in the national and local press as an expert on the California economy and local housing markets, and is a sought-after speaker for briefing local business leaders on recent economic developments.
Professor Ratcliff has also worked in market research and applications development at the Franklin-Templeton family of mutual funds, as a market analyst on the U.S. Treasury's Mexico Task Force, and as a compliance researcher at the Frankfurt headquarters of Deutsche Bank.
Selected Current Research
Journal Article, Academic Journal
Custin, R., O'Connor-Ratcliff, M., Ratcliff, R. (2013). The Mensing Conundrum: Litigating Generic Drug Injuries in California (Featured Article). California Business Practice (2), http://www.calpractice.co.
Ratcliff, R. (2013). Relative Options Prices and Risk-Neutral Skew as Predictors of Index Returns. Journal of Derivatives, 21 (2), 89-105.
Ratcliff, R. (2013). The "Probability of Recession": Evaluating Probabilistic and Non-Probabilistic Forecasts from Probit Models of U.S. Recessions. Economics Letters, 121 (2), 311-315.
Ratcliff, R. (2010). Predicting Nominal Exchange Rate Movements Using Skewness Information from Options Prices. International Journal of Finance & Economics, 15 (1), 75-92.
Ratcliff, R., Doshi, K. Using the Bass Model to Analyze the Diffusion of Innovations at the Base of the Pyramid. Business & Society
Book, Chapter in Non-Scholarly Book-New
Ratcliff, R., Gin, A. (2011). The Outlook for the San Diego Economy: 2011-13. UCLA Anderson Forecast