Barbara Lougee, Ph.D.
Associate Professor of Accountancy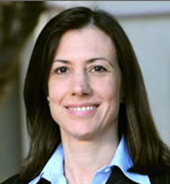 Email
blougee@sandiego.edu
Phone
(619) 260-7892
Office Location
Olin Hall 220
Degree
Ph.D. Cornell University, Johnson Graduate School of Management, Accounting
M.S. Cornell University, Management
MBA Cornell University, Finance
B.A. Colgate University, Geology
Areas of Expertise
Accountancy
Selected Publications
Measuring Free Cash Flows for Valuation: Pitfalls and Possible Solutions, Journal of Applied Corporate Finance
WaMu's Option-ARM Strategy, Issues in Accounting Education
Cash Balance Pension Plan Conversions: An Analysis of Motivations and Pension Costs, Journal of Applied Business Research
The Relation between Earnings Management and Financial Statement Fraud, Advances in Accounting
Earnings Informativeness and Strategic Disclosure: An Empirical Examination of 'Pro Forma' Earnings, The Accounting Review
Summary
Barbara Lougee is an associate professor of Accounting at the School of Business Administration at the University of San Diego. Her principal areas of expertise are financial statement analysis, financial reporting, and interactive reporting (XBRL). Dr. Lougee has published in the disciplines of accounting, finance, and corporate social responsibility, and teaches financial accounting or financial statement analysis in the MBA, Masters in Accounting, and Masters in Executive Leadership programs. She has received numerous awards for research and teaching excellence, including being voted Professor of the Year and Professor of Impact. Dr. Lougee's consulting experience includes financial analysis and valuation for Morgan Stanley and XBRL taxonomy development for the Financial Accounting Standards Board and XBRL US. Prior to joining the faculty at USD, she held positions at Morgan Stanley, the University of California, Irvine's Merage School of Business, and Science Applications International Corporation (SAIC).
CV
View CV
Awards
Outstanding Professor Award, International M.B.A. 2012 Cohort, May 2014; SBA Teaching Award, $2500, September 2013; Professor of Impact Award, Graduating MBA Students, May 2013; Graduate Accountancy Professor of the Year Award, April 2013; SBA Teaching Award, $2500, September 2012; Professor of the Year Award, Graduate Student Business Association, May 2012; Outstanding Professor Award, International M.B.A. 2010 Cohort (at USD), May 2012; SBA Teaching Award, $2500, September 2011; Professor of the Year Award, Graduate Student Business Association, May 2011; Professor of the Year Award, Graduate Student Business Association, May 2009; Best Research Paper Award, American Accounting Association, Western Region Meeting, April 2009, for "Prior Earnings Management, Forecast Attainment, Unexpected Revenue per Employee and Fraud"; Best Research Paper Award, American Accounting Association, Western Region Meeting, May 2008, for "What the Data Reveal About the Corporate Social Responsibility (CSR) Trend";