Barbara Lougee
Contact Information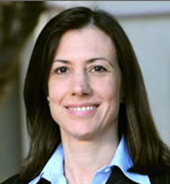 Barbara Lougee
Assistant Professor of Accountancy
Email | blougee@sandiego.edu
Phone | (619) 260-7892
Office | Olin Hall 220
Assistant Professor of Accountancy
Ph.D. Cornell University, Johnson Graduate School of Management, Accounting
M.S. Cornell University, Management
MBA Cornell University, Finance
B.A. Colgate University, Geology
Selected Current Research
Journal Article, Academic Journal
D'Souza, J., Jacob, J., Lougee, B. (2013). Cash Balance Pension Plan Conversions: An Analysis of Motivations and Pension Costs. Journal of Applied Business Research, 29 (2)
Perols, J., Lougee, B. (2011). The Relation between Earnings Management and Financial Statement Fraud. Advances in Accounting, 27 (1), 39-53. Awarded the Best P.
Bowen, B., Jollineau, J., Lougee, B. WaMu's Option-ARM Strategy. Issues in Accounting Education
Journal Article, Professional Journal
Smith, J., Lougee, B. (2014). The Appraiser's Role in Calculating Casualty Loss Deductions Resulting from Natural Disasters". The Appraisal Journal (Winter 2014)
Lougee, B., Wallace, J. (2008). The Corporate Social Responsibility (CSR) Trend. Journal of Applied Corporate Finance, Winter (20/1), 96-108.
Book, Chapter in Non-Scholarly Book-Revi
Lougee, B., Valentine, J. (2011). Chapter 14 Identify Yellow Flags Through Forensic Accounting in "Best Practices for Equity Research Analysts" by J.J. Valentine. McGraw Hill