Craig Barkacs
Contact Information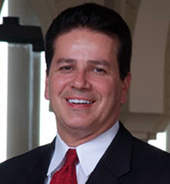 Craig Barkacs
Professor of Business Law
Email | cbarkacs@sandiego.edu
Phone | (619) 260-2387
Office | Olin Hall 318
Professor of Business Law
MBA University of San Diego
J.D. University of San Diego
B.A. Kenyon College, Philosophy
Craig Barkacs began his long and close association with the University of San Diego when he arrived as a law student in August of 1978. Upon attaining his J.D./MBA, Professor Barkacs embarked on an exciting and illustrious career spanning the legal profession, the business world, and academia. As an attorney who often represented the underdog in high-profile civil and business litigation cases, he and his law partner wife, Linda, consistently achieved outstanding results litigating opposite some of the largest and most powerful law firms in the country. As an educator, Professor Barkacs has designed and taught numerous courses on negotiation, corporate social responsibility, ethics, law, and international business, and has published extensively in those disciplines. He has been very active in teaching in USD's study abroad programs, and in the numerous graduate programs in the School of Business at the University of San Diego. In addition, he is often sought out by the media to provide commentary on business, legal, ethical, and political issues. As a way of connecting with the broader business community and as a way keeping his skills honed and relevant, Professor Barkacs and his wife are principals in The Barkacs Group (www.tbgexecutivetraining.com), a business consulting firm that provides negotiation and ethics training for the private sector.
Professor Barkacs has won many awards for his research and publications and has been awarded a prestigious University Professorship by USD for outstanding career achievement in teaching, scholarship and service (the highest award given to an actively teaching professor). The graduate business students at USD have, on numerous occasions, honored him as Professor of the Year.
Selected Current Research
Journal Article, Academic Journal
Barkacs, L., Tehrani, S., Barkacs, C. (2013). Divorcing the Defense of Marriage Act: Judicial Tensions in Upholding the Legislated Preclusion of Federal Same-Sex Marital Rights. American University Washington College of Law - Labor & Employment Law Forum, 3 (1), 88-119.
Barkacs, L., Barkacs, C., Ehrich, K. (2012). Girls Just Want to Have Fun: Issues Surrounding the Marketing of Sexual Enhancement Products for Women. Journal of Law, Business & Ethics, 18 (Winter 2012), 63-72.
Barkacs, C., Barkacs, L. (2011). Learning from Exam Results: A Unique Classroom Experiement that Stimulates Critical Thinking. Journal of Case Studies in Education, 1
Barkacs, L., Barkacs, C. (2011). She's Not Heavy, She's My Sister: Does Anyone Really Give a Hooter about Obesity and Weight Discrimination? The Case of the "Heavy" Hooters Girls. Journal of Legal, Ethical and Regulatory Issues, 14 (2), 105-116.
Barkacs, L., Barkacs, C. (2010). Do I Feel Your Pain? Medical Marijuana, the Workplace, and Federalism. Journal of Legal, Ethical and Regulatory Issues , 13 (1), 67-74.
Barkacs, L., Barkacs, C. (2010). Do You Think I'm Sexty? Minors And Sexting: Teenage Fad . Journal of Legal, Ethical & Regulatory Issues, 13 (2), 23-32.
Barkacs, L., Barkacs, C., , . (2009). The Time Is Right -- Or Is It? The Supreme Court Speaks in Ledbetter v. Goodyear Tire & Rubber Co.. Journal of Legal, Ethical and Regulatory Issues, 12 (1), 1-7.