Dennis Zocco, Ph.D.
Professor of Finance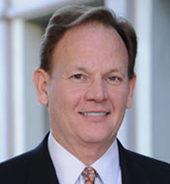 Email
dzocco@sandiego.edu
Phone
(619) 260-4848
Office Location
Olin Hall 214
Degree
Ph.D. Lehigh University, Finance and Investments
M.A. Lehigh University, Business and Economics
B.S. Penn State University, Mathematics
Areas of Expertise
Finance
Selected Publications
Cross-Cultural Negotiation; Integriertes Marketing-, Vertriebs- und Kundenmanagement (BtB), De Gruyter: Oldenbour, Germany
Private Equity Portfolio Valuation Audit Negotiation, Journal of Finance Case Research
A Recursive Process Model for AACSB Assurance of Learning, Academy of Educational Leadership Journal 15(4): 67-91
FantasyNet Venture Capital Term Sheet Negotiation, Journal of the International Academy for Case Studies (JIACS) 17(5), 2011, 5-27.
FantasyNet Venture Capital Term Sheet Negotiation, Instructor Notes, Journal of the International Academy for Case Studies
Summary
Dennis Zocco is a professor of Finance and served as Director of the Master of Science in Executive Leadership degree program. His prior business experience was as a systems engineer and sales executive with the IBM Corporation and a consultant in the business and financial industries. His research has resulted in published articles in the fields of Finance, Investments, Economics, Negotiation, and Law. He is the author of INVESTOR, an educational software system and textbook in the investment area adopted by over 300 colleges and universities worldwide. Since Dr. Zocco joined USD, he has taught courses in both the undergraduate and graduate programs, including those in Entrepreneurial Finance, Investments, Corporate and International Finance, and International Negotiations and has conducted executive development seminars and courses in those subjects. Dr. Zocco has taught international-based courses in Milan, Oxford, Barcelona, Madrid, Valencia, and Casablanca. He has been awarded numerous best professor designations.
Awards
University Professorship, 2005 Professor of Impact, 2007 Graduate Accountancy Professor of the Year, 2009