Denise Dimon
Contact Information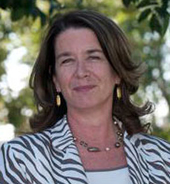 Denise Dimon
Director, Ahlers Center for International Business
Associate Provost for International Affairs
Email | dimon@sandiego.edu
Phone | (619) 260-4836
Office | Alcala West, Coronado 116
Office Hours

Director, Ahlers Center for International Business
Associate Provost for International Affairs
Ph.D. University of Illinois, Economics
M.S. University of Illinois, Economics
M.I.M. University of Denver, Masters of International Management
B.A. University of Colorado, Economics
Denise Dimon has served as the Director of the Ahlers Center for International Business since 1999. She has always had an interest in international business having received a Masters in International Management from the University of Denver, and a Ph.D. in Economics from the University of Illinois with a specialization in international economics and economic development.
In addition to her activities within the Ahlers Center, she is also serving as the Associate Provost for International Affairs and Director of the International Center at the University of San Diego.
She has been a Fulbright Scholar in Argentina and Uruguay, a Distinguished Visiting Professor at the Graduate School of Business Administration and Leadership of at the Tecnológico de Monterrey (EGADE Campus Monterrey); a Visiting Professor at ESC Reims, France, Université Robert Schuman, ICES, Strasbourg, France, and EADA in Barcelona, Spain. She has held positions at numerous institutions as a visiting scholar and consulted for private companies on four continents. Professor Dimon has worked with several international organizations on consulting and educational programs including the Academy for Educational Development, Educational Development Center, United Nations Development Programme, and the Interamerican Development Bank. She has coordinated consulting projects and executive education programs in Argentina, Brazil, Peru, South Africa, Thailand, China and India in a variety of industries including telecommunications, health care, tourism, and manufacturing.
Her current areas of research and teaching include topics in international business, international economics, and the role of business in poverty reduction. She has taught internationally, published many articles and also is co-editor of the Latin American Business Review. Additionally, she is co-director of the Latin American Network (an internet-based publishing service as a part of the SSRN network providing abstracts of research papers and professional announcements worldwide).
She was selected Women of the Year by the Women in International Trade (WIT, San Diego) and recognized as one of the top 25 outstanding Women Business Leaders in San Diego (San Diego Business Journal). She currently serves on the Advisory Board of the San Diego World Trade Center. She has twice been recognized with a Steber Professorship from the School of Business Administration for outstanding contributions to the School and the University of San Diego. In 2009 she received a two-year grant from the U.S. Department of Education for the Ahlers Center to develop additional initiatives in Latin America and Asia. In 2013 she was recognized by the Univeristy of San Diego as a "Woman of Impact."
Dr. Dimon teaches courses at the graduate and undergraduate level in Sustainable Business Model Design, Latin America Business Environment, International Comparative Management, International Economy and Business and Peace Through Commerce.
Selected Current Research
Journal Article, Public or Trade Journal
Dimon, D. (2011). The Legacy of C.K. Prahalad: Business at the Base of the Pyramid. Administradores
Book, Scholarly-New
Baber, H., Dimon, D. (2013). Globalization and International Development: The Ethical Issues. Broadview Press