Dirk Yandell, Ph.D.
Professor of Economics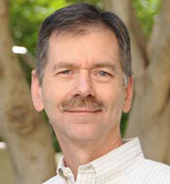 Degree
Ph.D. Purdue University, Economics
M.S. Purdue University, Economics
B.A. University of San Diego, Mathematics and Economics
Areas of Expertise
Economics
Selected Publications
Using Experiments, Cases, and Activities in the Classroom, Prentice Hall
Short Sale Spillovers: Are Short Sales Like Foreclosures?, Journal of Business Management and Applied Economics
Short-run Driver Response to a Gasoline Price Spike: Evidence from San Diego, CA, Journal of Applied Business and Economics
Efficiency in the California Real Estate Labor Market, American Journal of Economics and Business Administration
Vertical Integration of Successive Monopolies: A Classroom Experiment, Perspectives on Economic Education Research
Summary
Dirk Yandell has taught over 20 different courses since joining the USD faculty in 1981. He regularly receives top teaching evaluations and teaching awards, including the Sears Roebuck Foundation Teaching Excellence and Campus Leadership Award, the Innovative Undergraduate Business Educator award, the Professor of the Year award by the Graduate Business Student Association, and the Outstanding Preceptor award. His book, Using Economic Experiments in the Classroom reflects his interest in experimental economics and classroom pedagogy. He has also published a number of articles in the areas of business economics and public policy, and has led seminars in the areas of quality management, statistical process control, cost estimating, present value analysis, and contract pricing. He regularly serves as an expert witness in court cases.
Professor Yandell was the inaugural recipient of the James M. Burns Professorship Award, which award honors the life and work of former SBA Dean Jim Burns.