Gary Whitney, Ph.D.
Professor Emeritus of Management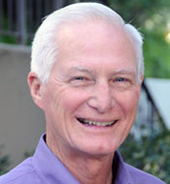 Degree
Ph.D. University of Washington, Administrative Theory and Organization Behavior
MBA University of California, Los Angeles
B.S. California Polytechnic State University, Mechanical Engineering
Areas of Expertise
Management
Selected Publications
Intuit (A) and (B), Case and teaching note, Technology Management, by Tesar and Anderson
Border Dispute: A Negotiation Exercise That Requires Both Competitive and Collaborative Behavior, Journal of Teaching Organization Behavior
The Electronic Spreadsheet Industry: A Competitive Analysis of Lotus and Its Challengers, Strategic Management for Decision Making/PWS-Kent Publishing Company
When the News is Bad: Leveling with Employees, Personnel
Appaloosa Horse Club, Intercollegiate Case Clearinghouse
Summary
Gary Whitney teaches Management, Business Strategy, and Managing Technology at the University of San Diego. He was on the faculty at Washington State University before coming to San Diego. He was the associate dean in the USD School of Business from 1989 until 2000. In recognition of his contribution, he was awarded a University Professorhip in 1998. Current activities include working with the Executive Program for Scientists and Engineers (EPSE) at the University of California at San Diego and the Master of Science in Executive Leadership jointly offered by USD and the Ken Blanchard Companies. He is a staff member at the Institute for Quality and Productivity in San Diego. He consults and leads seminars on Total Quality, Team Facilitation, Strategic Negotiation, Decision Making, and Team Building. Past clients include Coca-Cola, Pacific Bell, and Bumble Bee Seafood.