Curtis Cook, D.B.A.
Contact Information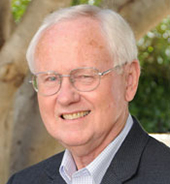 Curtis Cook, D.B.A.
Dean Emeritus and Professor Emeritus of Management
Email | ccook@sandiego.edu

Dean Emeritus and Professor Emeritus of Management
DBA University of Southern California, Strategy, Organization and Management Theory
MBA University of Southern California, Food Marketing Management
B.A. University of Redlands, Economics and Business Administration
Curtis W. Cook is a professor of Management, and from 1997 to 2005 served as dean of the School of Business Administration (SBA). Under his leadership, the SBA was guided by four primary mission-supportive goals: enhancing relevance, reputation, relationships, and resources in service to USD's stakeholders. Two key areas of strategic initiative in pursuit of these goals involved innovation of eight new academic degree programs and the creation of five centers and institutes to serve specific areas of industry interest. Prior to joining the University of San Diego in 1997, Cook was a faculty member and academic leader at San Jose State University and Southern Illinois University, with responsibilities that included developing new degree programs for specific business stakeholder customers. In the 1960s he was a supermarket executive and consultant to the food industry. After switching to an academic career he branched into consulting in industries as diverse as steel, banking, and high-tech. Cook is co-author of The Management of Change and Management and Organizational Behavior among some 100 other publications and papers.
Selected Current Research
Book, Textbook-Revised
Bloisi, W.,Cook, C.,Hunsaker, P. (2007). Management and Organisational Behaviour. McGraw-Hill (2nd European Edition), 800.
Book, Scholarly-New
Hunsaker, P.,Cook, C.,Bloisi, W. (2003). Management and Organisational Behavior. McGraw Hill/Irwin