Cynthia Pavett, Ph.D.
Contact Information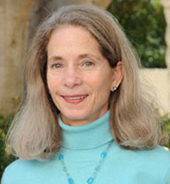 Cynthia Pavett, Ph.D.
Professor of Management
Email | pavett@sandiego.edu
Phone | (619) 260-4851
Office | Alcala West, Coronado 207
Office Hours

Syllabi
Professor of Management
Ph.D. University of Utah, Organizational Behavior
MBA University of Utah
B.A. University of Dayton, Economics and Mathematics
Cynthia Pavett's publications have spanned a range of topics from cross-cultural organizational behavior to quality management. Her latest publication focuses on cultural value differences across generatiions iwthin the USA. While she enjoys teaching Organizational Behavior, Comparative Management, Organization Design and Negotiations, she loves teaching these courses in exotic locations like Ching, Prague, the Gold Coast of Australia, Yerevan, Innsbruck, Pairsi or any place outside of her home town of San Diego. Living and teaching abroad has enhanced her understanding of working with people whose culural values differ from those of her own. In addition to teaching in USD's undergraduate and graduate programs, she also teaches in the MSGl (Master of Science in Global Leadership) program. She has served as a reviewer for numberous academic journals and conferences and is a past-president of an academically-oriented organization (WDSI).
Selected Current Research
Written Case with Instructional Material
Pavett, C.,Whitney, G.,Barkacs, L.,Barkacs, C. (2010). Putting the Fun in Teaching Cross-Discipline Negotiation Principles. Western Academy of Management (2010)
Journal Article, Academic Journal
Pavett, C. (2012). U. S. CROSS-GENERALTIONAL VARIATIONS IN CULTURALLY-ORIENTED VALUE SYSTEMS. American Journal of Management/North American Business Press
Hunsaker, P.,Pavett, C.,Hunsaker, J. (2011). Increasing Student Learning Effectiveness with Team Charters. Journal of Education for Business, Vol. 8 ( No. 3), 127-139.
Morris, T.,Pavett, C. (2010). Gene Life S.A. - Paris. Journal of the International Academy for Case Studies, 16 (Special Issue 2), 59-70.
Whitney, G.,Pavett, C. (2010). Found Money. Journal of Organizational Behavior Education, 3 (2010), 41-44.