Maria Kniazeva
Associate Professor of Marketing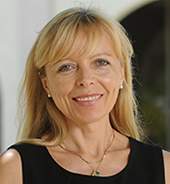 Email
kniazeva@SanDiego.edu
Phone
(619) 260-7837
Office Location
Olin Hall 313
Degree
Ph.D. University of California, Irvine, Marketing
MBA University of California, Irvine, Marketing
M.A. Leningrad State University, Journalism
B.A. Leningrad State University, Journalism
Areas of Expertise
Selected Publications
Faking Authenticity?
A Happy man in a Buick or How Chinese consumers let Western brands enter their lives
"Between the Ads: Effects of Non-Advertising TV Messages on Consumer Behavior."
Authenticity in the Mirror of Consumer Memories, or Drinking Champagne in Russia
The Western Yogi: Consuming Eastern Wisdom.
Working Papers
Summary
Associate Professor of Marketing, Maria Kniazeva joined USD in 2003. She earned her Ph.D. in Management with a specialization in Marketing from the Paul Merage School of Business at the University of California, Irvine, and her Masters in Journalism from Leningrad State University in St. Petersburg, Russia. Kniazeva was awarded the Edmund Muskie fellowship (1994-95) and American Association of University Women International fellowship (1997-98).
Two major streams of research mark Kniazeva's academic activity: cross-cultural consumption in the global marketplace and storytelling on food packages and beverage bottles. Moving in the first direction, she centers her research on the theme of the Easternization of the West. In particular, Kniazeva is interested in the concept of authenticity. With her second stream of research, she explores how marketing stories, like those on bottled water affect and reflect consumer behavior. A qualitative researcher, Kniazeva has also been mastering videography as a research method and…
CV
View CV