Adriana Vamosiu, Ph.D.
Contact Information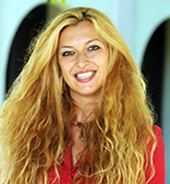 Adriana Vamosiu, Ph.D.
Assistant Professor of Economics
Email | adriana_vamosiu@sandiego.edu
Phone | (619) 260-4876
Office | Olin Hall 336
Assistant Professor of Economics
Ph.D. University of Maryland at College Park, Economics
B.A. Whittier College, Mathematics and Economics
Adriana Vamosiu joined the Department of Economics within the School of Business Administration in Fall 2013. Her passion for the liberal arts education began with her own undergrad experience at Whittier College and she is very happy to return to this environment. Her main research interests are Industrial Organization, particularly Pricing Theory, Bundling and Compatibility issues and the Economics of Higher Education.
She enjoys teaching microeconomics topics, but is always interested in new topics and areas of study.