Yen-Ting Lin
Contact Information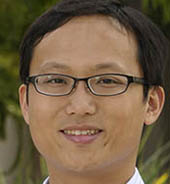 Yen-Ting Lin
Assistant Professor in Decision Sciences
Email | linyt@sandiego.edu
Phone | (619) 260-4855
Office | Olin Hall 334
Assistant Professor in Decision Sciences
Ph.D. The University of North Carolina at Chapel Hill, Operations, Technology and Innovation Management
M.S. Stanford University, Management Science and Engineering
B.S. National Chiao Tung University, Taiwan, Industrial Engineering

Yen-Ting (Daniel) Lin is an Assistant Professor of Decision Science at the University of San Diego. His research focuses on competive strategies in the retail industry, including vertical integration, quick response and the impact of strategic customer behavior. Dr. Lin teaches both undergraduate and graduate level Operations Management. He was a recipient of the 2012 SBA Junior Faculty Research Award.
Selected Current Research
Journal Article, Academic Journal
Lin, Y., Parlaktürk, A., , . (2012). Quick Response under Competition. Production and Operations Management Journal, 21 (3), 518-533.
Lin, Y., Lin, J., Chen, T., , . (2009). Critical Material Planning for TFT-LCD Production Industry. International Journal of Production Economics, 122 (2), 639-655.
Lin, Y., Parlaktürk, A., Swaminathan , J. Vertical Integration under Competition: Forward, Backward, or No Integration?. Production and Operations Management