Aarti Ivanic, Ph.D.
Assistant Professor in Marketing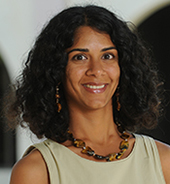 Email
ivanic@sandiego.edu
Phone
(619) 260-4868
Office Location
Olin Hall 335
Degree
Ph.D. University of Southern California, Marketing
M.S. Purdue University, Applied Statistics
B.S. Purdue University, Business Management
Areas of Expertise
Marketing
Selected Publications
The Role of the Accent in Radio Advertisements to Ethnic Audiences: Does Emphasizing Ethnic Stereotypes Affect Spokesperson Credibility and Purchase Intention?, Journal of Advertising Research
Status, Race and Money: The Impact of Racial Hierarchy on Willingness-to-Pay, Psychological Science/Sage
To Choose (Not) to Eat Healthy: The Impact of Racial Priming on Food Choice, Journal of Consumer Affairs
Status Has Its Privileges: The Psychological Benefits of Status-Reinforcing Behaviors, Psychology and Marketing
Summary
Prior to receiving her PhD in Marketing from the University of Southern California, Aarti worked as a management consultant at Booz Allen Hamilton for three years. She worked on several projects designed to understand how consumers behave and the different strategies firms can employ in order to retain current customers while attracting a new consumer segment. She also worked on projects to determine trade promotion effectiveness in the consumer packaged industry.
Her academic research focuses on how status hierarchies influence purchasing behavior. She explores the affects of both achieved (e.g., loyalty programs) and endowed status characteristics (e.g., race) on important consumer behaviors such as feelings towards the firm and willingness to pay for products.
She is also working on a project which examines how consumers perceive radio spokespersons with varied accents and how this translates into consumer behaviors such as purchase likelihood and willingness to reccomend the product to others.
…