Nadia Auch
Assistant Director, Center for Peace and Commerce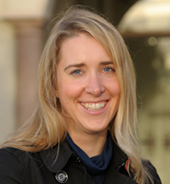 Summary
Nadia Auch is the assistant director of the Center for Peace and Commerce at the University of San Diego. She carries out the mission to promote new generations of "change makers" building a more sustainable world through innovative thinking and action in business and management.
Prior to joining the University of San Diego, Auch worked as a consultant to the executive dean of Arts and Sciences at The Ohio State University. In a joint capacity, she served as project manager for a trip to South Africa where she organized publicity and scheduled private viewings of the documentary film, Song of the Soul: Stories of Hospice in South Africa. From 2003-2006, Auch served as director of community programs at the Columbus Council on World Affairs and led the establishment of the Women in International Affairs lecture series and the Young Professionals Network. Auch began her career with a post abroad in Trujillo, Peru at La Universidad Privada del Norte, where she co-coordinated a social development project and instructed English languages courses.
Auch currently serves as a board member for the Foundation of the Children of the Californias. She holds a Master of Science in international public policy from University College London, with a concentration on global civil society, and a Bachelor of Arts from The Ohio State University in international peace studies and Spanish. Twice she studied abroad in Mexico during her undergraduate degree, first, at the La Universidad de Guanajuato and, second, she researched NAFTA's effect on Mexican trade, agricultural economics and rural sociology.