Kenneth Bates
Contact Information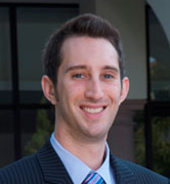 Kenneth Bates
Assistant Professor in Marketing
Email | kbates@sandiego.edu
Phone | (619) 260-2220
Office | Olin Hall 238
Assistant Professor in Marketing
Ph.D. Walton College of Business at the University of Arkansas, Marketing
B.S. Walton College, Business Administration, emphasis in Marketing
Prior to joining USD, Kenneth Bates was with the Campbell School of Business at Berry College. He has taught a variety of courses at the undergraduate level including Marketing Principles, Advertising and Promotion, Consumer Behavior, International Marketing, and a Marketing Management simulation course. Bates has research interests within both cognitive and social psychology.

Currently, his research examines the impact of nutrition knowledge, consumer motivation, and nutritional labeling on consumer evaluations of out of home food consumption. Additionally, his work explores the effect of mortality salience on consumer behavior by studying individual cultural worldviews. This research demonstrates how consumer interest for products that are perceived to be consistent with cultural values will increase upon exposure to mortality salient stimuli.

Bates is a member of both the American Marketing Association and the Association for Consumer Research.
Selected Current Research
Journal Article, Academic Journal
Bates, K. (2011). Modeling Regret Effects on Consumer Post-Purchase Decisions. European Journal of Marketing, 45 (7/8), 1068-1090.
Bates, K., Burton, S., Huggins, K., Howlett, E. (2011). Battling The Bulge: Menu Board Calorie Legislation And Its Potential Impact On Meal Repurchase Intention. The Journal Of Consumer Marketing, 28 (2), 104-113.
Newman, C., Kopp, S., Bates, K. (2010). Approaching the Summit: Understanding Motivations of Recreational Risky Behavior. The International Journal of Sport and Society, 1 (1), 173-186.
Bates, K. (2009). Coming to a Restaurant Near You? Potential Consumer Responses to Nutrition Information Disclosure on Menus. Journal of Consumer Research, 36 (3), 494-503.
Bates, K. (2009). The roles of gender and motivation as moderators of the effects of calorie and nutrient information provision on away-from-home foods. Journal of Consumer Affairs, 43 (2), 249-273.
Ivanic, A., Bates, K., Somasundaram, T. Emphasizing the Stereotype: The Role of Accent in Spokesperson Credibility and Purchase Intention. Journal of Advertising Research