Joe Bertocchini
Contact Information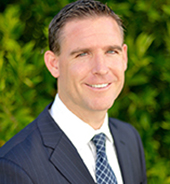 Joe Bertocchini
Director, Residential Real Estate
Email | joebertocchini@sandiego.edu
Phone | (619) 260-4183
Office | Alcala West, Avila A-101
Office Hours

Tuesday, Wednesday, Thursday:
8 a.m. to 5:30 p.m.
Director, Residential Real Estate
Joe Bertocchini joined the Burnham-Moores Center for Real Estate in 2012 as the residential real estate director. Bertocchini is a 2001 graduate of the University of San Diego's School of Business Administration. After graduating, he became acquisitions manager at R&R Capital and co-founder and vice president of Capital Real Estate Investments Inc. He returned to USD in 2009, serving as the development coordinator for USD's School of Business Administration. Bertocchini acts as the staff liaison between the BMC and the residential real estate community by providing staff support and guidance for the BMC's Policy Advisory Board Residential Real Estate Committee and residential real estate-oriented conferences.