Deborah Kelly, D.B.A.
Clinical Professor of Economics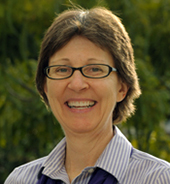 Degree
D.B.A. Alliant International University, Strategic Management
M.S. Arizona State University, Economics
B.S. Arizona State University, Economics
Areas of Expertise
Selected Publications
Funding of human service sector nonprofit organizations, Business Strategy Series
Human Service Sector Nonprofit Organization's Social Impact, Business Strategy Series
Perception and Acceptance of Online Education: Do Online Courses Pass the Muster?, Issues in Information Systems
A New Model For Measuring Instructional Effectiveness and Student Learning in the Classroom, Issues in Information Systems
A Journey of Two Survivors, Journal of Participatory Medicine
Summary
Prior to joining the USD faculty in 2008, Deborah Kelly was a branch manager at a financial institution, software engineer at General Dynamics, and part time faculty member at Palomar Community College and Alliant International University. Deborah's researches social impact and strategic success of human service sector nonprofit organizations, and developed a survey to rate non-governmental organizations in China with regards to their transparency, effectiveness, and social impact. Other research interests include student loan debt, generations in the workplace, behavioral economics, and perceptions of online education. Honorary societies include Sigma Iota Epsilon, a national honorary and professional management fraternity, and Omicron Delta Epsilon, an international economics honor society. She has received the Dorothy L. Harris Award for women in leadership, an honorary membership into Alpha Kappa Psi for being a teacher of impact, and as a professor of impact at the annual USD Scholar Athlete Luncheon.