Marko Svetina
Associate Professor of Finance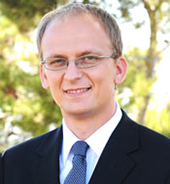 Email
msvetina@sandiego.edu
Phone
(619) 260-4869
Office Location
Olin Hall 209
Degree
Ph.D. Arizona State University, Tempe, Finance
M.S. Iowa State University, Economics
B.A. University of Northern Iowa, Economics
Areas of Expertise
Selected Publications
Negative Earnings Surprises: When is the Glass Half-Full?
Short-Sale Constraints and Securities Lending by Exchange-Traded Funds
Analyst Coverage of Acquiring Firms and Value Creation in Cross-Border Acquisitions
"Managerial Motives in Mergers: Propensity Score Matching Approach""
Does Local News Matter to Investors?
Summary
Marko Svetina is an Assistant Professor of Finance at the University of San Diego. His research interests include exchange-traded funds (ETFs), mergers and acquisitions (domestic and cross-border), the impact of local clienteles on the precision of analyst forecasts, and share repurchases. His work has been published in Journal of Applied Finance, Journal of Multinational Financial Management, Managerial and Decision Economics, and Managerial Finance.
Marko has taught Financial Management and Investments courses at the undergraduate level and Investment Banking and Financial Management and Analysis in the MBA program. He was a recipient of multiple teaching and research awards: Steber Fellowship (2013, 2012), SBA Dual Excellence Award (2011), Professor of the Year (2013, 2010), IB Research Award, MSGL Professor of Impact (2013), MBA Cohort Outstanding Professor (2010), and IMBA Cohort Outstanding Professor (2009).