Kristine Ehrich, Ph.D.
Contact Information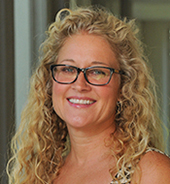 Kristine Ehrich, Ph.D.
Assistant Professor of Marketing
Email | ehrich@sandiego.edu
Phone | (619) 260-7629
Office | Olin Hall 221
Assistant Professor of Marketing
Ph.D. The University of Texas at Austin, Marketing
MBA Colorado State University
B.A. Concordia College, Moorhead, MN Biology and Medical Technology
Kristine Ehrich joined the faculty of the University of San Diego as an assistant professor of Marketing in the fall of 2008. Prior to coming to USD, Professor Ehrich spent four years in the Department of Marketing at Washington State University where she earned Professor of the Year awards two of those years.
Professor Ehrich's general research interests are in judgment and decision making. She is particularly interested in the impact that internal tension or conflict has on consumer decision making, the strategies that are used to manage these conflicts and the biases that sometimes result. She examines these interests in a number of areas, among them ethical decision making and health related decision making. She is especially intrigued by counter-intuitive strategies that consumers use, knowingly or unknowingly, to make their decisions. Professor Ehrich's work on consumer decision making regarding ethical attributes has been published in the Journal of Marketing Research. She has presented her work at conferences such as the Association for Consumer Research, Society for Consumer Psychology and Society for Judgment and Decision Making.
Selected Current Research
Magazine/Trade Publication
Ehrich, K. (2006). Willful Ignorance: Will Your Customers Avoid Relevant Product Information?.
Journal Article, Academic Journal
Muehling, D.,Laczniak, R.,Ehrich, K. (2013). The Effects of Brand Usage on Consumers' Immediate and Delayed Responses to Positive and Negative Comparative Advertisements. Journal of Current Issues and Research in Advertising, 34 (2), 229-246.
Barkacs, L.,Barkacs, C.,Ehrich, K. (2012). Girls Just Want to Have Fun: Issues Surrounding the Marketing of Sexual Enhancement Products for Women. Journal of Law, Business & Ethics, 18 (Winter 2012), 63-72.
Ehrich, K.,Irwin, J. (2005). WIllful Ignorance in the Request for Product Information. Journal of Marketing Research, 42 (Aug. 2005), 266-277.
Ehrich, K.,Ceranic, T.,Liu, J. Business Unusual: Transforming Business School Curricula through Community Engagement. Metropolitan Universities Journal