David Pyke
Contact Information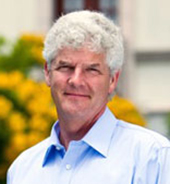 David Pyke
Dean
Email | davidpyke@sandiego.edu
Phone | (619) 260-4886
Website
Office | Olin Hall 341
Office Hours

Dean
Ph.D. The Wharton School, University of Pennsylvania, Decision Sciences
M.A. The Wharton School, University of Pennsylvania
MBA Drexel University, Management Analysis
B.A. Haverford College, Sociology
David Pyke, Ph.D. isdean of the School of Business Administration at the University of San Diego. Formerly, he was professor of Operations Management, and associate dean at the Amos Tuck School of Business Administration at Dartmouth College. He has made major research contributions in inventory models, production planning and scheduling, and global production and distribution systems. He is a frequent faculty at executive programs, and has taught at the International University of Japan, the Helsinki School of Economics and the WHU - Otto-Beisheim-Hochschule, Vallendar, Germany. He has consulted for The Rand Corporation, Accenture, Corning, DHL, Eaton, Home Depot and Markem, among others. He serves on the Board of Directors of GW Plastics, Concepts NREC, and the Lwala Community Alliance, a nonprofit focused on community development in Kenya. He is a scientific advisor for SignalDemand and for SeeControl.
Selected Current Research
Journal Article, Academic Journal
Pyke, D., Sibdari, S. (2010). A Competitive Dynamic Pricing Model When Demand is Interdependent Over Time. European Journal of Operational Research
Pyke, D. (2009). Static and Dynamic Pricing of Excess Capacity in a Make-To-Order Environment. POMS (Production and Operations Management), 18(4)
Pyke, D. (2008). Step Two to Successful Outsourcing: Operations, Cost and Risk Review. Supply Chain Strategy, 3 (10), 6-9.
Pyke, D., Jett, Q., Johnson, M. (2008). Competitive Strategy. MBE: Minority Business Entrepreneur, 25 (1), 37-40.