Subscribe to our Newsletter
Sign up for Kroc School News and Events
Join nearly 10,000 Changemakers when you subscribe to the Kroc School's monthly e-newsletters. Subscribe
Introducing Social Innovation Student Alliance (SISA)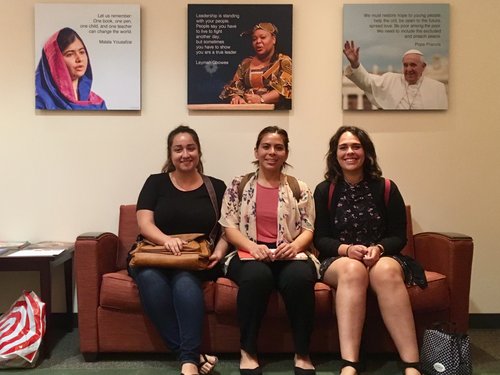 The Kroc School welcomed the first cohort of MA in Social Innovation (MASI) students Fall 2017. This dynamic group of changemakers immediately set out to leave their mark on the campus community through the creation of a student organization, Social Innovation Student Alliance (SISA). SISA's mission is to enhance and empower students and the local community in social innovation ventures on a local, national and global scale.

SISA leaders with Dean Márquez.
The group aims to support the Masters in Social Innovation (MASI) program while adding value to the overall academic and co-curricular experience at USD. These future alumni have high standards for the academic growth of future Kroc School students but they also know how to have fun; from decorating their shared space in the Ideation Station, creating a Day of the Dead altar, to taking amazing selfies, they know how to create change with flare.

Day of the Dead altar honoring those lost at the hands of government officials.

SISA leader Mr. Viet takes the best selfies.
These leaders are actively contributing to the sustainable growth and improvement of the Social Innovation program by laying a blueprint for future cohorts.