Subscribe to our Newsletter
Sign up for Kroc School News and Events
Join nearly 10,000 Changemakers when you subscribe to the Kroc School's monthly e-newsletters. Subscribe
The Innovative Classroom: Bridging Theory and Practice in Peacebuilding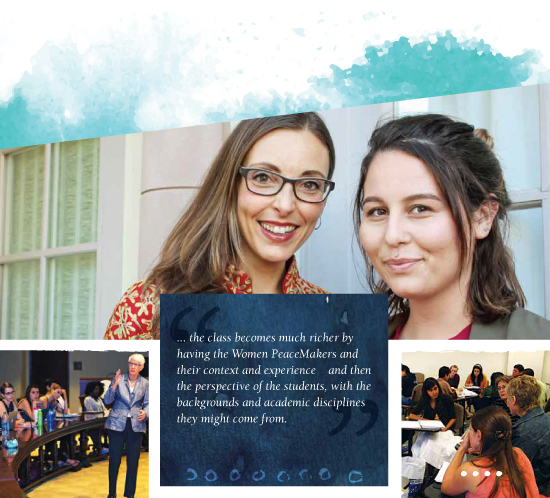 In the Kroc School's "War, Gender and Peacebuilding" class, students meet individuals doing peacebuilding in the conflict scenarios they are reading about, and the academic theories they are studying become more real.
JENNIFER FREEMAN — IPJ senior program officer for women, peace and security — teaches the unique course which includes the Women PeaceMakers joining her in the classroom.
SOFIA CARDENAS is a student in the course, a USD senior majoring in sociology, and an IPJ intern last fall. Cardenas and Freeman interviewed one another about their experiences in the class and with the Women PeaceMakers.
JF: Why did you choose to take a course like this? Did you know about the Women PeaceMakers program before?
SC: I am interested in a master's program in peacebuilding, so I wanted to see what that might look like before I jumped into the process. My first class at USD was in the IPJ building, and I saw the pictures on the wall and the newsletters and became interested in the kinds of things the IPJ was doing.
JF: What has it been like having the peacemakers in the classroom?
SC: It's been an incredible experience. Jane [Anyango from Kenya] was the first in the classroom with us. The insight she brought — seeing where she lives and what that's like and trying to meet her in her reality — has been really interesting.
JF: What are your plans after graduation?
SC: I will be applying here, looking to pursue a master's degree in peace and justice. I want a career in policy. Taking from what Jane has said, I want to look at resource-mapping and what kind of organizations already exist that are doing a version of what I want to do — and then support that and provide infrastructure. I don't want to come up with my own program and say, "Oh, this is how we should solve this problem." I want to empower local community leaders to be able to do that. They know best what their communities need.
SC: I'm interested in how you got started in the field of peacebuilding.
JF: When I first went overseas to work on issues of peace and security, it was to northern Ghana with the Canadian version of the U.S. Peace Corps. I was placed with a local nongovernmental organization that advocated for women's and children's rights, and it was led by Margaret Mary Issaka. She was the first person who gave me a strong gender perspective. She was the first person who showed me that — what you were hearing from Jane — the initiatives need to be locally designed in order to be effective.
SC: How do we measure the effectiveness of peacebuilding strategies?
JF: That's such a valid question. How do you measure a war that didn't happen? It's difficult to anticipate violence and then show that your peacebuilding interventions got a community away from that trajectory. But I think we're coming up with better tools to measure attitudes and behaviors, and how behaviors are changing as a result of building different structures, having people relate to one another, reducing hate speech, promoting shared values and ideas of human security.
SC: How does the interdisciplinary nature of peace studies contribute to your class?
JF: I think it makes it so rich. I see myself in a facilitation role: I have expertise in gender and peacebuilding, but I think that the class becomes much richer by having the Women PeaceMakers and their context and experience — and then the perspective of the students, with the backgrounds and academic disciplines they might come from. We have students like you from sociology. We have folks from the military, we have folks who have spent their careers in the United Nations or come from human rights perspectives. I don't think that there is any single answer to complex challenges like peacebuilding and societal change, so to have a class that is representative of the diversity of our human societies, that is where the conversation needs to happen.
SC: In the class we spend a lot of time emphasizing reflection — on what we are learning and how it makes us feel. How does reflection impact your work?
JF: When I was a new professional going overseas for the first time, I was far away from everything that was familiar to me. It was my first time in a conflict-affected community. It was my first time working for a local civil society organization. I had previously been a peer counselor in issues of sexual and gender-based violence, but never as a professional in that role. It felt like I was being thrown in the deep end, and I was going through culture shock. I started writing. I had never written much before, but I started journaling — a way to get things down, a way to own them and analyze them. I didn't have a community around me that I could go through a reflective process with. I did it very individually, through writing, and it grounded me. It got me to a safe distance where I was still connected to the day-to-day of what was happening in the communities where I was working, and it allowed me to be more effective in my role. Writing gave me a framework, some perspective, and a venue for analysis. Now, working with the peace writers and watching the Women PeaceMakers go through a process of reflection, I know how valuable it is. They've been doing their work for 10, 20, 30, 40 years, and yet they haven't given themselves time or an opportunity to reflect. To watch the insights that come from that is so rewarding.