Subscribe to our Newsletter
Sign up for Kroc School News and Events
Join nearly 10,000 Changemakers when you subscribe to the Kroc School's monthly e-newsletters. Subscribe
TBI Concludes certificate program in Sinaloa amidst tragedy, but also hope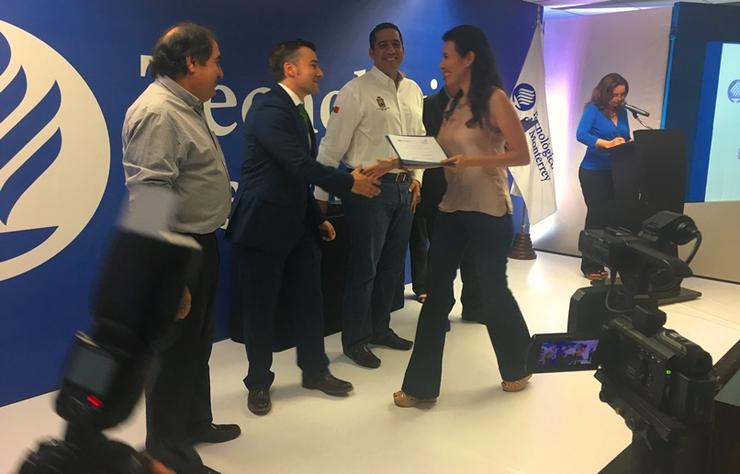 begin quote

How do you convert rage and despair, fear and helplessness into peace and justice? There's no simple answer, but all of the good ones seem to begin with community, with organizing and listening, with commitment and sacrifice.
Since January, TBI faculty and staff, Kroc Students, and an array of local partners have carried out a certificate program in Applied Peace Education in Culiacán Sinaloa, in partnership with the Instituto Tecnológico de Estudios Superiores de Monterrey, Mexico's most prestigious private university. More than 180 people participated in at least one of the 6 weekend-long modules, including the leaders of local NGOs, university faculty and students, and officials in the state and local government. Three graduate students in the Master of Arts in Peace and Justice program served as facilitators in the seminar.
The week of the final module began with a horrific act of violence. On Monday, May 15, journalist and TBI collaborator Javier Valdez Cárdenas was murdered. He was dragged out of his car by hooded men, and executed in broad daylight, the fifth journalist killed in Mexico this year, and one of more than 100 killed since 2000. Javier was a well-known reporter, chronicler, and columnist, with whom TBI director Ev Meade published a book this spring. He was also the friend and mentor to many participants in the seminar, and he gave a presentation during the first module back in January.
How do you convert rage and despair, fear and helplessness into peace and justice? There's no simple answer, but all of the good ones seem to begin with community, with organizing and listening, with commitment and sacrifice. And so we got back to work, piqued but humbled.
Cancelling the final module was not an option, nor was ignoring the murder of a friend and collaborator. We began our program Friday night by inviting two of Javier's colleagues who have participated in our peacebuilding programs in Culiacán, Adrián López Ortiz of Noroeste and Lucía Mimiaga of El Debate, to reflect on his loss and legacy. They both spoke plainly of the fear that local journalists feel, and the shattering of an illusion that Javier's renown would protect him from such an attack. Adrián also addressed the substance of Javier's work, pointing out the difference between his daily efforts in the crime pages and as a commentator, and the humanistic legacy he leaves us in his books, a legacy that is totally unique and invaluable.
Special guest Dr. Patrick Timmons followed with a reading from malayerba, Javier's weekly column, underscoring precisely this humanistic legacy and Javier's impact as a writer. Patrick then turned to an exploration of the human rights mechanisms available to persecuted journalists and their loved ones, in a sweeping review of the missing connection between the right to the freedom of expression and the right to life in the jurisprudence of the Inter American Court of Human Rights. Patrick's presentation laid bare how journalists are not only missing the protection they deserve under existing law, but are actually less protected than others, despite all of the various declarations, policies, and laws in place to protec them. He suggested focusing our attention in the immediate term to those connected with persecuted journalists – the rights of their familes and survivors for transparency, humane treatment, and protection – and the idea of reparation, as an avenue with stronger legal precedent.
Ev Meaded followed with an interactive exercise on victimhood and photography, using the photographs of the drowned refugee child Aylan Kurdi as a way of discussing sympathy, empathy, and the news cycle. From their we tackled the the definition of art and politics, through an historical case study of the radical journalist and activist Tina Modotti, emphasizing her years in Mexico and the combination/tension between political and aesthetic revolutions.
On Saturday, special guest Dr. Alejandro Meter (a literature professor from here at USD) gave us a masterful and engaging review of the relationship between trauma and memory int he aftermath of violence. He offered an extremely useful guide for mobilizing the exhaustive exploration of these themes with regard to the holocaust to understanding other incidents of mass violence, followed by a case study from Argentina, and the memory of the dictatorship (1976-83). Alejandro reminded us of the many facets of memory, sensory, pictorial, aural, linguistic, and the need to engage with all of them, but also to respect that different people and situations demand different level of explicit re-memory and silence in coping with trauma. We finished with a broad review of all six seminars, emphasizing the need for interdisciplinary, collaborative, and humanistic efforts to build sustainable peace.
Our certificate program was meant to be a beginning and a catalyst, not merely an academic exercise or a resume-builder, and thus we concluded with an organizing exercise, where the participants joined a series of thematic working groups. The balloting to determine the thematic areas to be covered by the working groups showed a classic problem of voluntaru associations and grassroots peacebuilding – after identifying about a dozen themes, nearly everyone voted to include each and every theme, and it was only after we imposed a one-person, one-vote rule that we were actually able to sharpen and define some specific commitments. After much discussiona and negotiation, we committed to formering the following 7 working groups:
Grupo Villa Juárez (violence prevention and poverty alleviation in a small town outside of Culiacán, where violence has exploded recently)
Grupo voces y testimonios de Culiacán (collecting testimonials and individual perspectives on violence and peace)
Grupo plataforma digital para la paz (creating a digital platform to share peacebuilding syllabi and collaborative efforts)
Grupo currículo para la paz, primaria, secundaria, y prepa (creating peace education modules for primary and secondary education)
Grupo currículo para la paz, superior y profesional (creating peace education modules for higher and professional education)
Grupo arte y cultura para la paz (encouraging arts and cultural initiatives for peace)
Grupo observatorio ciudadano (building a citizens' observatory for peace and justice)
Members of each of the working groups committed to meeting regularly and getting to know each other's work; completing a group documentary project over the next month; and participating in "constructing spaces for peace," a monthly forum, the second Friday of each month, at the Hotel Lucerna, convened by the non-profit Semáforo Delictivo. The opportunity of a continuing forum – with a regular schedule, meeting space, and an audience of local policy makers – bodes very well for the success of the working groups.
We closed the certificate program on a postive and hopeful note. Culiacán Mayor Jesús Valdez made a special appearance to congratulate the participants and to urge them to continue to work for sustainable peace in the city. Humberto López Verdugo, Academic Director of the Tec. de Monterrey in Culiacán summarized the content of the program, and reminded participants of the call to action impliued by each of the modules. Knowledge is power only if we apply it!
In total, we issued 94 certificates in Applied Peace Education for those who participated in the full program, and we acknowledged dozens more who took part in more than one of the modules. If the energy and goodwill of the participants is any indicator, than there's hope for peace in Culiacán.
What's next?
The working groups will meet the second Friday of each month at the Hotel Lucerna Culiacán. We are also planning new certificate programs in Tijuana, Ciudad Juárez, and Culiacán for next uyear. Stay tuned!
How can I get involved?
Take a class – USD students can register for a TBI or Kroc School Class where you will participate in one of our peacebuilding certifcate or seminar programs for credit. Check out PJS 493/593 in the USD catalog or drop us a line: transborder@sandiego.edu
Design and lead one of the modules – USD faculty and community partners with relevant content and expertise can join the TBI team to help us present top-notch content in our seminars. Contact TBI Director Ev Meade: emeade@sandiego.edu
Give – Presenting TBI's peacebuilding programs involves cultivating a broad mix of local partners, complex logistics, and cutting-edge content, all of which depend upon private donations. Help us continue to improve and take the work to new audiences!
https://securelb.imodules.com/s/1374/torero/giving-start.aspx?sid=1374&gid=1&pgid=483&cid=1133