Subscribe to our Newsletter
Sign up for Kroc School News and Events
Join nearly 10,000 Changemakers when you subscribe to the Kroc School's monthly e-newsletters. Subscribe
72 Hours in Bogotá by Susy Escobedo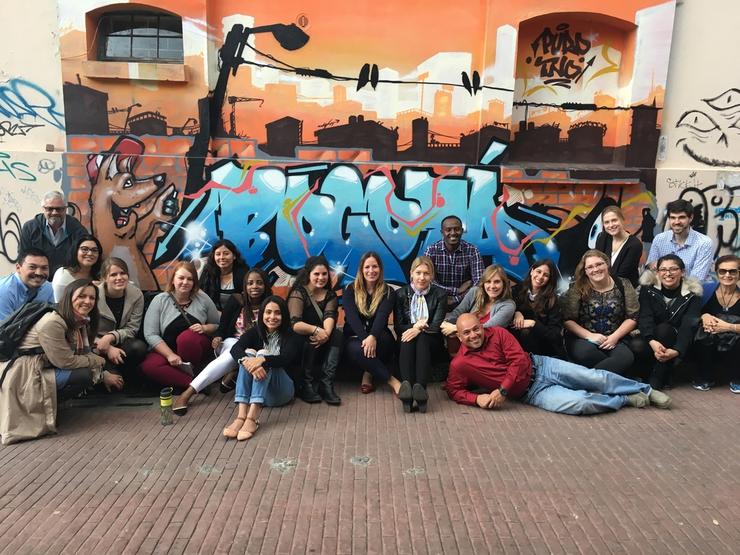 Written by MA in Peace and Justice student Susy Escobedo
Hola! Greetings from Bogotá! I am Susy Escobedo a full time student of the Masters in Peace and Justice. I am an attorney admitted in Mexico and prior to this Masters program I had been practicing transactional and environmental law at the international legal firm Baker McKenzie. I have lived in the Tijuana – San Diego region my entire life where I have been actively involved in politics having served as the coordinator of the women's political promotion agenda of my district in Mexico, as well as vice president and co-founder of a public state's environmental initiative. I am currently the alternate Sindico Procurador of Tijuana, Mexico. Being binational has made me aware of the unique benefits and challenges this region has which is why I am pursing this Masters to further my skills and knowledge in peace and justice and apply practices learned at a binational level.
It is very exciting to be in Colombia in this historical moment. We have been in Bogotá approximately 72 hours as part of our field based practicum to receive hands on learning experience on post conflict peacebuilding. We have only been here for 72 hours and I am fully certain that we are at the right place at the right time. We couldn't be in a better place to learn on post conflict peacebuilding, as this is happening right now in Colombia, while you are reading this blog.
Providing a little bit of context, Colombia has been in armed conflict for the past 52 years with the Revolutionary Armed Forces in Colombia "FARC" (Fuerzas Armadas Revolucionarias en Colombia). After several years of negotiating and previous unsuccessful attempts to end the conflict, there seems to be hope with a new and comprehensive peace agreement that was signed on August 2016, which was later revised on November 2016 as a result of the referendum results.
This has been an interesting and unique experience, on one hand we are able to travel to another country and learn a new culture and on the other hand we are able to interact closely with locals. Every opportunity to engage with locals and listen to their input and their perspective regarding the peace agreement is seized. This provides us with a rich local context that is often not communicated through the international media or academic publications. This is local, unfiltered information, from their mouth to our ears, no middle man.
Today, March 7 was absolutely wonderful; we started the morning with our inaugural lecture by Dr. Angelika Rettberg from the University of los Andes (Uniandes). Her lecture provided background on the conflict with FARC and the negotiations of this peace agreement; she also dove into the implementation challenges and opportunities of the peace agreement.
Afterwards, we attended the Javeriana Pontific University, where we met with Professor Maria Lucia Zapata and her students. They discussed their peace building research activities and told us about the peace movements that have been taking place in Colombia for several years. One of the things that resonated most with me was when Prof. Zapata mentioned that for the 52 years of conflict there has simultaneously been 52 years of peacebuilding efforts. We often overlook these efforts and concentrate on the conflict, however these efforts have had positive long-term results. For instance, nearly 20 years ago the Mandate of Children for Peace initiative was launched in Colombia and today, 20 years later, a greater part of the children that participated in this initiative are now actively working in peacebuilding related activities. This is very valuable information as we learn that engraving peace on children has a positive effect, and as many peacebuilders will tell you peacebuilding is a long-term process, it is not immediate.
Later that day we went on a street art tour. As you can see from the pictures, there is a strong street art movement in Bogotá. I confess, I initially saw these painted walls as graffiti, but during this tour given by a local street artist, I realized that these painted walls are an expression of Bogotá's youth and a way of documenting and communicating current events beyond the normal outlets. Not only this, but also these artists are a community that empower and foster one another. I now am able to appreciate and understand this art and the community.
Our day ended in Monserrate Mountain, this was a magical ending to a perfect day as it provided a great space to interact with my peers on a more profound level than our usual on campus interactions. It has transformed classmates into friends.
This has been an amazing experience; during these 72 hours on the field we have acquired learning experience that would not have been achieved even if we had spent an entire semester reading on local culture. As I mentioned earlier, we are receiving unfiltered local input. We are able to observe and listen to the vehemence and body language when we are interacting with locals.
In my perception as a peacebuilder in training, I was not able to comprehend why anyone would vote "no for peace"; I naturally assumed everyone wanted peace, so like many, I was also shocked when the "No" won the referendum, even though it was by a small margin.
I would like to emphasize on the fact that most people have the perception, that people in Colombia voted "no for peace". From our interactions with locals, I have been able to understand that people didn't necessarily vote "no for peace", but "no on this agreement".
Interacting with locals has enabled me to understand both sides of the argument from a local perspective, understanding those that voted "No" and those that voted "Yes"; something that would not have been achieved without this academic oriented trip to Bogotá.
In our field it is vital we understand all parties and angles, this is now clearer than ever.