Subscribe to our Newsletter
Sign up for Kroc School News and Events
Join nearly 10,000 Changemakers when you subscribe to the Kroc School's monthly e-newsletters. Subscribe
More Human by Brittney Ochira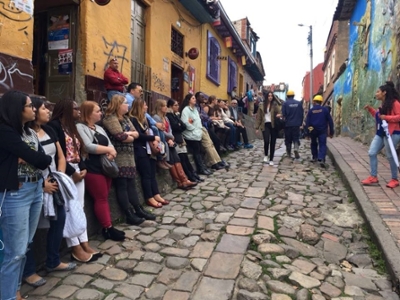 begin quote

We too will need to humanize the people we work with, and to humanize our processes for how we create space for others to move toward reconciliation.
By MA in Peace and Justice Student, Brittney Ochira
One of the ways people justify violence against each other is by thinking of the "enemy" as less than human. The antidote, we learn as peace studies students, is to rehumanize people in each other's minds, which paves the way for reconciliation, and eventually brings peace. It was with this mindset that I entered Colombia on my field-based practicum with the Kroc School. As we studied the mood and the mechanics of post-peace agreement Colombia, it was in the back of my mind, like a box waiting to be checked. As we heard from various speakers on our trip, I'd wait for them to talk about how they were working on relationships between the FARC and the people who had suffered from the decades-long war, but no one seemed to have time for this part of the puzzle. One speaker even told us that there was so much pressure to push through the other logistical aspects of the peace agreement before the uncertain 2018 presidential elections that they didn't have time to do reconciliation work yet. This weighed on my mind as a crucial task that could mean the fate of the implementation sticking or not.
Learning about a conflict from the comfort of my San Diego classroom is a lot different from experiential learning on the ground. Once I was there, meeting people living with the realities of the conflict, the thought of asking them to rehumanize the enemy seemed much more daunting than I had realized. It wouldn't be, as I had thought before, a "task" that peacebuilders carry out as part of their program. It was going to take something arguably superhuman, for a country to forgive, and live alongside their enemies. I have hope that Colombians will, on their own time, begin to rehumanize each other and reconcile. It will take radically more sensitivity and patience on the part of the peacebuilders to support this process than what I had previously envisioned. We too will need to humanize the people we work with, and to humanize our processes for how we create space for others to move toward reconciliation.
I came to this changed paradigm in our conversation with Hernando Caceres, who is Colombian and works with UN Women here. Hernando is the kind of person who is fully present in a room, and clearly attentive to the others around him. Unsurprisingly, he carries this humanizing way of being into his peacebuilding work. He told us the powerful story of a woman who approached him while he was collecting testimonies in a large and rushed forum. The woman approached him to ask a question about her form, but when she looked up and saw his face, she thought she had found her lost son, who was disappeared by the FARC many years prior. At first, he tried to explain that he was not really her son, until she looked at him, remembering herself for a moment and said, "Don't take this from me." He then decided he would be her son, for just that moment, to hug her and tell her that everything would be alright. He would listen to her grief about the years she'd had without him, and about her relief at having him back. After holding her for a little while to his chest, he told her to go on, to not look back at his face, and he gave her permission to move on from her loss. This powerful story showed me how, in holding space for the grief of victims, and not forcing healing and reconciliation on our own time frames, we can rehumanize the people we interact with. As in the case of Hernando, as peacemakers we also humanize ourselves, finding ways to express our humanity in ways that serve the needs of others.
Travelling to a conflict-affected place, when it is accompanied by real listening, brings nuance and depth to our understanding. When we meet the people our recommendations are intended to benefit, our binary understandings of good and evil, peace and war, can look overly simplistic, overly logistical. When we choose to be present, and to recognize the full humanity of the people we meet, we realize the enormity of what it means to ask them to forgive. We may also, in our humanity, and in their own time, help them to see the humanity in the person who was once their enemy.