Subscribe to our Newsletter
Sign up for Kroc School News and Events
Join nearly 10,000 Changemakers when you subscribe to the Kroc School's monthly e-newsletters. Subscribe
Peace, Public Opinion, & Looking Ahead by Scott Castillo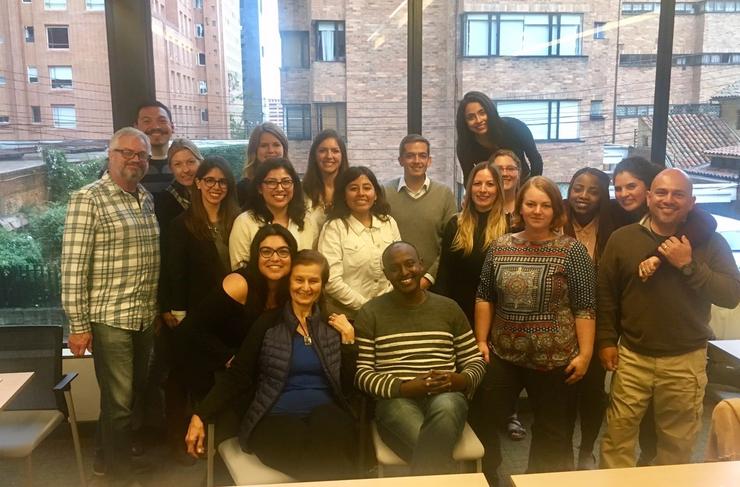 begin quote

This clash between urban and rural seems to represent one of the largest schisms of the country as a whole, especially in regards to how to handle peace.
By MA in Peacebuilding Scott Castillo
Prior to my trip to Bogotá, I had little formal knowledge about Colombia and its residents. Outside of the actions of the FARC and some context of the conflict, I couldn't share much about the country and its capital. I figured after this trip I would be able to talk about what foods were eaten or what type of music was the most popular, as well as what people there thought about the FARC and conflict. After returning from Bogotá, however, I find myself with even more questions than I had prior to departure, and with few real answers within my grasp.
As a beautiful, thriving, populous and busy metropolis, there are few to no signs that the country is emerging from a 50-year conflict that has claimed more than 8 million victims. Of the many lessons I learned in Colombia from our guest speakers as well as speaking to individuals on the street, one of the biggest is the idea that there are multiple Colombias. What this means is essentially that from one region to another, urban areas to rural ones, it can feel as if you are in another country entirely. The identities, culture, resources, and feelings about the conflict can all change with just an hour car ride; including people's attitudes about peace. The dichotomy and clash of urban versus rural literally surrounds the city as you can see sky scrapers positioned only a block or two away from a dirt road that runs up part of the Andes Mountains. This clash between urban and rural seems to represent one of the largest schisms of the country as a whole, especially in regards to how to handle peace.
On the fourth day of our journey, we met with Miguel Garcia Sanchez from Universidad de los Andes to share some research that has been completed by Observatorio de la Democracia regarding public opinion around the peace accord as well as the FARC, the government, and illicit armed actors. The study consisted of approximately 1500 surveys conducted across the country, with a diverse sample and representatives from across the spectrum of socioeconomic class, age, and gender.
While a large amount of information and insights were provided by Professor Sanchez, those that stood out the most to me were concerning the reintegration of FARC ex-combatants back into society and the polarization of the data that was presented. In 2016, approximately 50% of respondents surveyed believed that forgiveness and reconciliation with the FARC is possible, while approximately 50% stated that they would not have a problem with having a FARC ex-combatant as a neighbor. These numbers highlight that immense challenge that Colombian society faces in reintegrating ex-combatants to everyday life, as only half of the society that is positioned to accept them believe healing is possible and would be willing to accept them as a neighbor. Perhaps even more telling, only 35% of those surveyed would approve of their son or daughter being friends with an ex-FARC member. This demonstrates that as the chance of an ex-combatant becoming a part of your life moves closer and closer, the number of those who approves only grows smaller.
In addition to these specifics, what is perhaps even more significant is the polarization of responses that exists in the data. As is very present in the reconciliation and neighbor questions, opinions were split nearly down the middle. These responses practically mirror those of the plebiscite on the peace accord that took place in October of 2016, as the "no" vote won and the peace accord was rejected by the general public. With this plebiscite, 50.2% voted "no" in disapproval compared to 49.8% who voted "yes" in approval of the accord. This polarization of votes, and parties behind the votes, seems to follow the juxtaposition of political ideologies that have come to exist internationally in the past few years. From Brexit to the United States' presidential election, citizen's ideas and values are forming into competing camps, and there are very real implications to the decisions that are made.
As a whole, it does seem as if most Colombians do want peace in their country, however it must be acknowledged that all peace has a price. What price some are willing to pay, from justice and impunity to higher taxes or political seats, is still highly contested, and only time will tell us what price Colombia is actually willing to pay.