Subscribe to our Newsletter
Sign up for Kroc School News and Events
Join nearly 10,000 Changemakers when you subscribe to the Kroc School's monthly e-newsletters. Subscribe
We Have to Construct Peace by Jelena Starcevic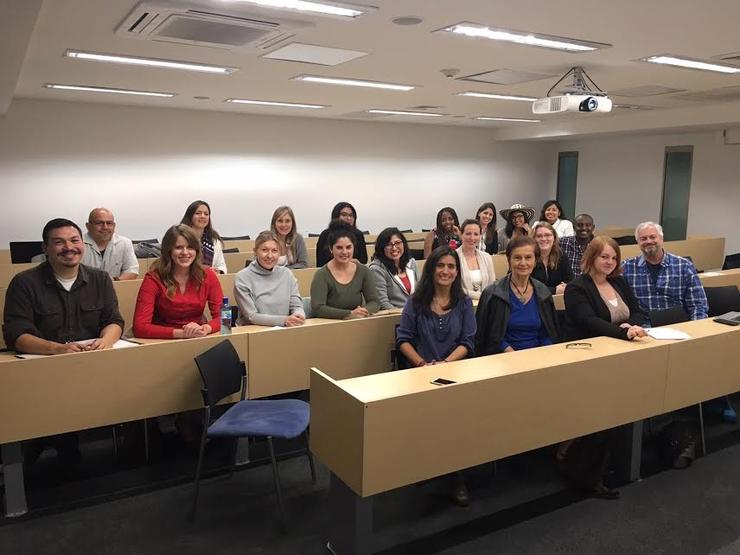 begin quote

They hope that with time, the people of Colombia will change their minds, accept the peace agreement, and work together toward new reality –peace in Colombia.
By MA in Peacebuilding student, Jelena Starcevic
Our last day in Bogotá, Colombia was devoted to visiting Universidad de los Andes, the first private higher education institution in Colombia. During our visit, we attended a presentation from professor Juana Garcia, and had the opportunity to engage in more informal conversation with faculty and students.
Professor Juana Garcia informed us of the role of international cooperation plays in the Colombian Peace Process. Involvement of the international community in Colombia oscillated throughout the history of the conflict and peace negotiation efforts: from no international community involvement during the 1980s, to a period of so called "peace democracy" during the Caguan negotiation process; from reduction of international community involvement during Alvaro Uribe's presidency to more international community participation during Juan Manuel Santos' presidency. This fluctuation followed the changes in Colombia's government from left to right; from extensive peace negotiations to no peace negotiations. With the aim of owning the peace process, the majority of financial resources for the implementation of the peace accord will be Colombian – the international development aid will only comprise 5% of the peace budget. This has already set in motion a fiscal reform in the country and with the elections coming up next year, it will certainly have consequences, not only on a political sphere, but also in the peace process.
At our receptions with faculty members and students, we were able to discuss various topics that were still very present in our minds from previous conversations: we wanted to hear more about the transitional justice process and the security sector reform. We also opened some new topics: neighboring relationships and issues of internally displaced persons. With each conversation we learned something new, got a new insight, or a different perspective. Of course, we talked about the referendum and public opinion about the peace agreement – a topic that is still very much alive in Colombia, as well as in our minds, trying to understand the tensions and challenges that the peace process brings. We learned about a very interesting survey that was conducted with the National Business Association of Colombia (ANDI) in August 2015. The survey showed that more than half (65%) of the employers were not even familiar with the peace negotiation, but that 49% of employers would be willing to participate in reintegration of ex-combatants, and this number increases in the case state would offer incentives to help peace process. There is a huge opportunity for the private sector to contribute to the peace process and foment economic growth and development, for both the vulnerable population and the affected regions. Another important take-away regarding the public opinion and the "NO" at the referendum is the realization of how people can be easily mobilized by appealing to their basic emotions and fears. This is not just a lesson from and for Colombia. In today's world of half-truths, media plays a major role in shaping our perceptions and views, and it has great responsibility to report objectively and responsibly thus making a constructive contribution to the existing efforts for dialogue.
A main question remains: How will the people of Colombia, who lived their lives during decades of war, construct a new reality for themselves? How does someone who was born and lived during the war, envision peace? The promise of peaceful future lies in opinions of our colleagues from Colombia, Master of Peacebuilding students from UNIANDES, the next generation of leaders who strongly believe that peace is a real opportunity. They hope that with time, the people of Colombia will change their minds, accept the peace agreement, and work together toward new reality –peace in Colombia.