Peacebuilding and Social Innovation at the Ashoka U Exchange.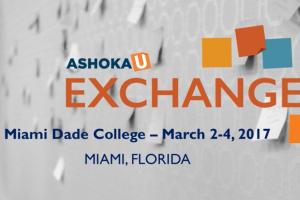 Last week, for three days, I attended the Ashoka U Exchange. The Exchange is one of the largest (over 750 participants) social innovation conferences in the country. University of San Diego is an Ashoka U Changemaker Campus known as a leader in the social innovation education space and the Kroc School of Peace Studies, where I work, has recently launched the Masters in Social Innovation. So as someone who has been mostly in the peacebuilding field, a key goal for me during what was my deepest dive into the social innovation space, was to better understand the relationships between social innovation and peacebuilding. What are the synergies? What are the tensions? What can each field offer the other?
The conference allowed me to start wrestling with these questions right away. The first plenary session was "The Promise and Perils of Social Innovation," which included an honest conversation on some of the weaknesses and blind spots of the social innovation approach to creating social change. As an aside, kudos to Ashoka U for opening with this session. It was open, honest, reflective and set a great tone for the rest of the conference. And frankly, it was miles away from some of the hype and cheerleading you see elsewhere in the innovation ecosystem.
There were three key takeaways from the session. Social innovators need to:
Do a better job of understanding the problem before jumping in with a solution. In a great phrase that was used often at the conference, innovators need to commit to "apprentice the problem," and only then think about what innovations might be the right solution.
Do a better job of thinking about and working on systems and how any given social innovation interacts with a range of social systems.
Do a better job of working politically, including both working with and on political institutions and thinking about power and power dynamics within society. One speaker noted that the social welfare system and the environmental regulations system are enormously important social innovations, and that both of these are deeply rooted in political institutions and constantly need to be defended through political processes.
Problems and Systems
In regard to understanding the problem, peacebuilding has been working on getting "conflict assessment" right for many years. This includes the more traditional conflict assessment frameworks of USAID, World Bank and others as well as rapid community assessment tools and more recent Problem Driven Iterative Adaptation (PDIA) and other adaptive management tools. There are many specific tools to share, but also some hard won lessons about how to do conflict assessment, that is how to apprentice the problem, effectively.
On the other hand, social innovation has something to offer peacebuilding regarding a positive, assets-based approach to assessing the problem and devising solutions. The peacebuilding field, from its focus on peace constituencies through its recent focus on resilience, has continually tried to take an assets-based approach, but always seems to fall back to a deficits-based approach, e.g., conflict drivers, fragility, violent extremism. Based on the conversations I heard at the conference, it is deeply in the DNA of social innovators to take an assets-based approach to solving social problems. One Ashoka Fellow, for instance, launched a project to create rural jobs by repurposing closed-down prisons. Not many of us would see a closed, decrepit prison as a potential asset.
Regarding working on systems, peacebuilders have done some sophisticated thinking about systems, complexity, and the nature of wicked problems from which social innovators could benefit. In particular, social innovators talk of iteration, but mostly regarding prototyping their innovation. Peacebuilders have thought more about how iteration can be leveraged to how the system is responding.
Peacebuilders, I would say, also have a better sense of the humility required to work on systems. The coalition-building necessary to shift systems relies on a servant leadership, adaptive leadership approach that doesn't work without a large dose humility. It was interesting that many I spoke with at the conference did criticize the idea of the "hero-preneur" that has been prevalent within the social innovation field. Maybe there's space for a Sidekick Manifesto in social innovation.
In regard to systems, where peacebuilders have much to learn from social innovators is the linking of the micro to the macro. I went to one fascinating presentation where three Ashoka Fellows described their venture. Each had started with an incredibly simple intervention, but had a very clear idea how this intervention linked to broader systemic goals:
| | |
| --- | --- |
| Intervention | Systemic Change |
| Take high school kids on experiential trips. | End the educational achievement gap. |
| Have volunteers visit immigrants in detention. | End the immigrant detention system in the US. |
| Dinner parties organized by and for those that have recently suffered loss. | Reduce isolation, build social cohesion, and help repair the social fabric. |

Each of the pathways from intervention to systemic change could be discussed and challenged, but the point is that these social innovators could clearly and confidently describe this pathway, while peacebuilders so often struggle to articulate how their interventions might even hypothetically add up to peace writ large. On a related point, social innovators are constantly searching for how their activities might create catalytic, self-generating change. When peacebuilders talk about scale, we often mean the scaling of our activities. Social innovators on the other hand are constantly attuned to how innovations might take off and go viral on their own. Even if such innovations are rare, the mindset that is attuned to these possibilities is a useful one for peacebuilders to adopt.
On Politics
And now to the thorny issue of politics. In the first session, there was an acknowledgment that social innovators have often sought to make an end run around the state and political institutions, and there was some agreement at the conference that innovators need to engage more intentionally with political institutions. This parallels the process that peacebuilding has gone through in the last 10-15 years from a focus on inter-group and civil society work to a clear focus on building inclusive institutions and a stronger state-society relationship, see SDG 16. Especially given where peacebuilders work, the field does have something to teach social innovators about how you can effectively engage and work with weak, flawed and corrupt institutions as part of your change efforts.
There is a more fundamental political issue, however, that went less acknowledged at the conference, at least within the formal sessions. The framework of social innovation and changemaking says nothing about the type of change you are trying to create. As one attendee said in a hallway conversation, suicide bombing is an enormously important social innovation. Another said facetiously - Why not Trump for changemaker of the year?
This issue never was largely hidden at the conference because most participants infused their own ethical content into the social innovation processes discussed. There was much talk of nonviolence, equity, inclusion, connectedness, empathy. And there was a mostly unstated, but probably correct assumption that virtually all participants agreed with these values. This doesn't change the fact, however, that these values are being imported into the social innovation framework, they are not there already.
There is clearly a desire among some within the social innovation space to be apolitical, but politics is how we decide what kind of society we want and what type of values we want that society to uphold. If you want social innovation to have a strong ethical core, it is necessary to engage in those messy political conversations. The peacebuilding field, with for instance, the positive peace/negative peace debates and the peace versus justice debates around transitional justice has engaged deeply on the what we want the ultimate goals of our work to be. I would argue it is time for more of these kinds of conversations within the social innovation field.
Conclusion
Beyond the particulars, it is clear that given social and political moment, the social innovation field and the peacebuilding field are in a period of serious reflection, are looking for new ways to do things and are looking for new kinds of partners. It is a thus a ripe time for new partnerships, new forms of collaboration and new thinking on the forms of social innovation we need to promote peace and justice.