Subscribe to our Newsletter
Sign up for Kroc School News and Events
Join nearly 10,000 Changemakers when you subscribe to the Kroc School's monthly e-newsletters. Subscribe
TBI and the Kroc School Launch Peacebuilding Seminars in San Diego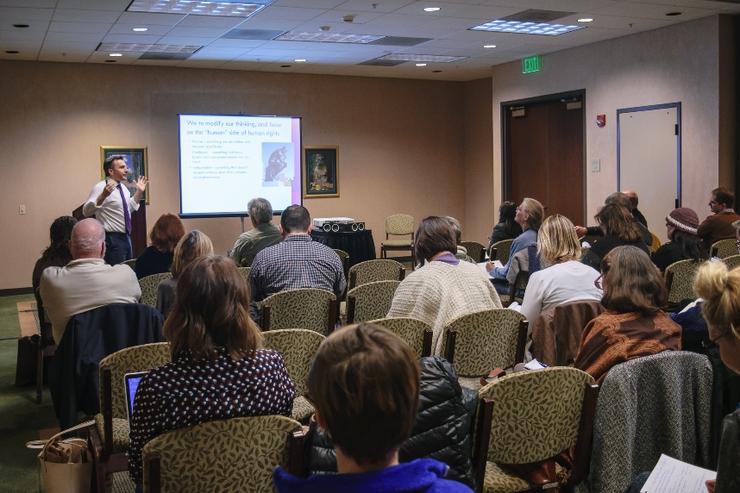 begin quote

Lethal violence is neither natural nor inevitable, and human beings have an inherent capacity for empathy
Last weekend, the Trans-Border Institute (TBI) and the Kroc School launched our first ever series of peacebuilding seminars here in San Diego. Turnout for the first seminar was terrific. More than sixty individuals registered for the seminars, representing a diverse array of organizations, including: the International Rescue Committee, the Wounded Warrior Project, Casa Cornelia Law Center, Human Kind, and the League of Women Voters. Adding to this diversity, eight students in the Master of Arts Program in Peace and Justice Studies from Kuwait, Thailand, Serbia, and across the United States served as facilitators in the seminar.
The core curriculum and pedagogy are very similar to what we have done in our programs in Mexico, but tailored to the local community. Over the last decade in particular, the San Diego-Tijuana region has become home to an intense concentration of witnesses and survivors of conflict and violence abroad – returning veterans, migrants, refugees, deportees, and a diverse array of contractors, missionaries, and humanitarian aid workers from across the globe.
Our seminars provide the leaders, staff, and clients of organizations who serve veterans, refugees, and immigrants with a highly interactive journey through six different peacebuilding perspectives: human rights, citizenship, history and memory, conflict resolution, social innovation, and digital art and technology.
Friday night's seminar "Be Human, Exercise Rights" explored the human side of human rights, or how to use the origins, theory, and contemporary practice of human rights to counter chronic violence. Rather than pursuing a conventional trajectory of the development of a corpus of international human rights law, however, we focused on the evolution of the underlying capacities that are necessary to make human rights norms meaningful in the world, empathy in particular.
This strategy seeks to make the field of human rights more accessible to non-lawyers and other non-specialists, but also to address some of the conventional excuses we make for why human rights protections have often failed to protect the victims of war, atrocity, and extreme poverty – things like a lack of enforcement, corruption, imperialism, or the ignorance of a given electorate. While these factors have undoubtedly weakened human rights protections, as concepts, they tend to be so big and amorphous that they make it difficult for ordinary citizens and local organizations to find an entry point, a first step towards positive incremental change, and they can even justify a certain apathy.
A greater understanding of human nature, by contrast, helps to shape our expectations for peace and justice, and to design interventions that leverage our unique strengths and weaknesses. If there's a general principle behind this module, it's that lethal violence is neither natural nor inevitable, and human beings have an inherent capacity for empathy. We don't resolve the underlying scientific and philosophical controversies in some definitive way, but we do teach the debates and expose the mounting body of evidence that we don't have to settle for a violent and unjust world.
On Saturday, we explored a case study very relevant to our reality as a border region: the arrival of thousands of unaccompanied children from Central America since 2014. After a brief presentation of some of the basic facts about these children and how they fit into broader patterns of unauthorized migration and refugee flows, we divided into groups for a workshop-style exercise. Each group had two hours to design a project or intervention design to protect Central American children with a strict budget, timeline, and other parameters. The results were excellent and diverse, ranging from a financial literacy campaign for refugee children and a mobile payment and tracking system for public busses in Central America, to an indigenous language translation network, and a humanitarian mentoring and monitoring system along migrant routes.
What's next?
The second module, "Be a Good Citizen, Make Peace" takes place February 17 and 18. Space is available, but registration is required. Please request a syllabus and registration form from: transborder@sandiego.edu
How can I get involved?
Take a class – USD students can register for a TBI or Kroc School Class where you will participate in one of our peacebuilding certificate or seminar programs for credit. Check out PJS 493/593 in the USD catalog or drop us a line: transborder@sandiego.edu
Design and lead one of the modules – USD faculty and community partners with relevant content and expertise can join the TBI team to help us present top-notch content in our seminars. Contact TBI Director Ev Meade: emeade@sandiego.edu
Give – Presenting TBI's peacebuilding programs involves cultivating a broad mix of local partners, complex logistics, and cutting-edge content, all of which depend upon private donations. Help us continue to improve and take the work to new audiences! Click this link to support TBI's work.