Sex, Stereotypes, and the Power of the Notepad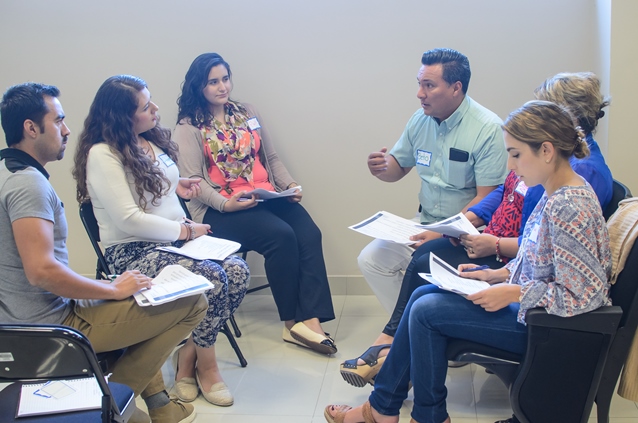 begin quote

Once she got over the angst of the encounter, she expressed her exhilaration with the power that a notepad with survey questions gave her to approach and talk to anyone.
"In the U.S., you have a problem with race. In Mexico, we have a problem with sex." This was the message an experienced local activist in Tijuana delivered to a Kroc School facilitator during a peacebuilding seminar last spring.
It wasn't an off-hand comment or a penny essentialism for the poor foreigners, either. We have heard versions of the same point from other activists, public servants, and academics in seminars across Baja California and Sinaloa, mostly, but not exclusively, from women. They explain that as with Americans and racism, Mexicans are thin-skinned about accusations of sex discrimination despite the obviousness of the problem to outsiders, and loathe to admit any connection between discrimination and violence.
What does this kind of assertion mean in the context of peacebuilding or strengthening civil society? Does it matter if we can disprove it?
To me, these encounters underscore the importance not just of engagement and dialogue (which tend to devolve into platitudes), but of rigorous ethnographic interviews as a method of civic engagement – both for the information and perspective they bring, and for the cultural self-exploration of the interviewers.
There are a lot of good examples of speaking and acting with rather than upon populations affected by violence and injustice, and integrating surveys and interviews into the mechanics of positive social change. The first step in Martin Luther King's model for non-violent social change is "the collection of information." Mohammed Yunus's model of community circles and market surveys is a core component of the Grameen method of microfinance.
In TBI's peacebuilding seminars in Mexico, we engage academics, public servants, and the leaders of local NGOs in the areas most affected by the drug war in applied peace education seminars. A key component of this engagement is a collaborative research project, where we co-define a set of survey questions and then ask each participant in the seminar to conduct a series of interviews with randomly-selected respondents in public places.
From a research perspective, we're able to collect a large number of responses in a short period of time and the quality of the interviews conducted by local adults is unquestionably higher than if we used foreign graduate students or paid interviewers. The quality is high, even if the results aren't strictly scientific – selection bias is a persistent issue.
But, it's more than just the quality and contingency of the findings. It's also about the people who conduct the interviews and their own cultural self-exploration.
A staffer from a local NGO in Ensenada, for example, related her experience in conducting our discrimination and violence survey with a randomly selected man on the street. When she asked him a survey question about the most important causes of discrimination and violence against women, he replied: "Well, look at how they dress!" She described the struggle to maintain her composure and not to judge this man. She then reflected on how she had likely surrounded herself with like-minded people and didn't really know her own society, even though she felt free to criticize it in abstract all of the time. Once she got over the angst of the encounter, she expressed her exhilaration with the power that a notepad with survey questions gave her to approach and talk to anyone. Call it the "shy journalist syndrome" – it's easy to talk to almost anyone when you have a formal pretext. We've heard the same thing in dozens and dozens of course evaluations and debriefings.
The trick, of course, is capturing these important perspectives without simply reinforcing existing stereotypes. And these stereotypes are not limited to the general public.
In a set of structured conversations within the seminar about the survey questions, many of the participants expressed what seemed to be rather overt stereotypes of their own.
In one group discussion among middle-aged lawyers and professionals, for example, the conversation turned in a kind of "kids-today-will-do-anything" direction.
One woman said that she had heard of adolescent sex parties in which the girls wear different colors of lipstick in order to leave multi-colored patterns on the boys' penises after oral sex. This, of course, is likely a local iteration of an urban legend – the "rainbow party" – aired in a diverse array of forums, including a famous 2003 episode of the Oprah Winfrey Show, and periodically revived on the internet.
The generation gap this kind of hyperbole expresses is important and it shows up in the quantitative results of our survey. The responses to the question "Has discrimination and violence against women increased or decreased during your lifetime?" correlate directly with age. A vast majority of respondents over the age of 35 claim that violence and discrimination against women have decreased. A vast majority of respondents under the age of 30, by contrast, claims that discrimination and violence against women have increased.
And we have collected amazing substantive examples of a younger generation that is indeed in crisis. An elementary school teacher interviewed in one of our Seminars in Culiacán, Sinaloa, explained how she had given one of her students a pass to go to the bathroom. When he returned twenty minutes later, she scolded him for being gone so long and questioned what he had been doing. The boy responded that there was line. The teacher asked him if he expected her to believe that, to which he responded: "Well, there was a girl in there and they were lined up for her." It took the teacher a minute to realize that this pre-adolescent girl was charging pre-adolescent boys for sexual favors in the school bathroom in the middle of the day, exactly what the teacher found when she ran off to investigate. The hyper-sexualization of young people and their mimicry of gendered and often misogynist behavior is a constant theme in both survey responses and group sessions within the seminars.
This discussion of sex and generational crisis affects the substantive content we teach as well. In one segment of our seminar on history and memory, for example, I present a series of memoirs from women and girls from the Mexican Revolution (1910-20), and we compare them to some of the classic memoirs from World War I and other armed conflicts. The general point is to look at conflicts that were very similar in terms of the empirical realities of violence and trauma, and yet remembered quite differently. WW I is remembered largely in terms of the realities of war in the trenches, absent the great ideological struggles of the day, whereas the Mexican Revolution is remembered in terms of a grand ideological and political struggle, but largely absent the realities of war and its traumatic aftereffects.
Part of the payoff here is that Mexico has a rather brilliant history of dealing with the trauma of a decade of violence in the early part of the 20th century (without ever acknowledging it as such), that is very applicable a century later, after another decade of violence. More specifically, it underscores how this politics of memory occluded the women's experiences of war in Mexico.
The threat, reality, and aftermath of rape are omnipresent in women's memoirs of the Mexican Revolution. Protecting their daughters from rape shaped parents' experiences of armed occupations. Avoiding or avenging rape was a major motivating factor for thousands of women who fought as soldaderas (female soldiers) in the Revolution. And witnessing the politics of sexual violence was central to the civilian experience.
Almost invariably, in the group discussions that follow these historical case studies, one of the participants asks me if the prevalence of rape in these narratives is unique to Mexico. I do my best to explain that rape is a reality of war and armed occupation in almost every armed conflict documented by historians, and that if it's more present in the Mexican Revolution than some other conflicts, it's because the Revolution was a war of conflicting occupations. Rape is a condition of armed occupation, not particular to Mexico. In Mexico, women played an outsized role in the Mexican Revolution – an experience colored by sexual violence – and this role, in turn, shaped their claims for full citizenship afterwards.
As many times as I explain this, the opposite message seems to come though. I can see the bias I am unwittingly confirming on their faces. A similar thing happens when we discuss "feminicide" (the killing of women for being women) in Mexico – the data show alarming sets of pattern crimes, but also that the homicide rate for female victims is much lower in Mexico than in the United States.
I get it; I need to modify these content modules. But, these biases, like the generation gap and other essentialist claims about sex and gender discrimination, point to a larger yearning, a desire to confront powerful representative institutions with a new set of demands and expectations. This yearning and the changing expectations it represents could be a key component of social change and a positive indicator of its possibility. They should be the focus of cultural interventions for peacebuilding and human rights, rather than the confirmation or denial of stereotypes or narrow empirical metrics.
So, maybe sex discrimination isn't Mexico's cultural burden par excellence by some world historical scale. But the desire to project responsibility for sex discrimination and violence onto large representative institutions, and the power of the notepad to reveal them, shouldn't be taken lightly either.