The Refugee Crisis - Alumni Respond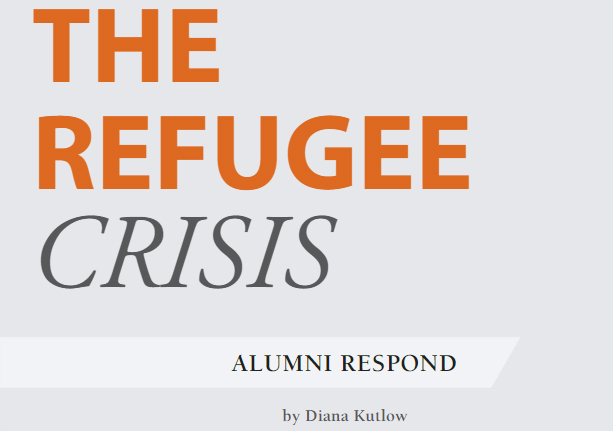 begin quote

The interactions that Lawrence (MA' 08) had with youth, farmers and other stakeholders convinced her that the key to creating positive, lasting change is inclusive programming.
DEVELOPING COMMUNITIES
As Director of Donor Development for ANERA, a nonprofit organization that works in Gaza, the West Bank and Lebanon, Skylar Lawrence (MA '08) recently visited its field programs to see its work on providing health, education, development and emergency response.
Lawrence spent time in an informal tented settlement in the Akkar region outside Tripoli, Lebanon, where multiple families sleep on the floor of tents cobbled together out of plastic sheeting from billboards, and children walk barefoot through the mud between the rows of tents. Many of the refugees are living in the poorest rural areas of Lebanon or in the already strained urban Palestinian refugee camps. Over 40,000 Palestinians have fled Syria as refugees twice over. Local communities that were once welcoming are overwhelmed, so ANERA provides services to residents in those communities as well as the new arrivals.
Lawrence realized that it is important to look at the micro-level, where local ANERA field workers see the everyday changes they are making in individual lives. Programs like Sports for Peace entice youth into education programs and integrate health and wellness through hygiene kits and a workbook on health, water and sanitation.
The interactions that Lawrence had with youth, farmers and other stakeholders convinced her that the key to creating positive, lasting change is inclusive programming. Lawrence recalls hearing this mantra over and over in her classes at the Kroc School, but says that many organizations still offer top-down solutions that do not meet local needs.
"Each program has to be planned and implemented in consultation with the people impacted by the project so that local institutions become more self-sufficient and effective," she says. "If we were to lose funding next year, we want the local organizations to be able to continue to serve their communities."
PROVIDING EDUCATION
Elika Dadsetan (MA '11) is a Global Education in Emergencies Specialist. She was in Lebanon and Jordan in April 2016 with the "No Lost Generation Initiative" which provides education and psychosocial services to Syrian refugees. What stands out for her is how much more emphasis has been put on education in emergencies. "For the first time ever, governments at the London Conference in February 2016 and the World Humanitarian Summit in May 2016 said that education is a life-saving service that we need to be funding more," she explains. "Before, people would say, 'Well, if you don't have food or water, what good does education do?' But now they realize that education is not a luxury."
Dadsetan says that with Syrian youth unable to attend school, people are realizing that lack of education doesn't only affect the youth but also the communities in which they are living. "There is a recognition that investments need to be made, but we still haven't seen the funding," Dadsetan admits. "More than anything, we're seeing a shift in thinking as people realize how well educated Syrians were before the war, and that now a lot of the youth have no access to learning."
Dadsetan sees the promise of technology, but says there is a real need for assessment of the impact of computer learning. "Recognizing context is essential," she warns, "and we need more information about how effective it can be in different situations."
She also echoes Lawrence's field observations, saying, "One thing that stands out is the importance of community consultations. When programs aren't successful, it often is due to the lack of consultation, particularly in the Syrian response."
INTERPRETING FOR THE DISPLACED
Jasmine Afshar (MA '15) rushed to the small island of Lesvos, Greece in January of 2016 to assist with the influx of refugees landing on the shore after perilous journeys across the Aegean Sea. Afshar's parents are Afghan refugees from the Soviet invasion, so she shared the Farsi language with many of the refugees coming from Afghanistan and Iran.
"As interpreters, we were able to smooth relations and build trust between various groups at the camp (Greek police, refugees, NGO workers and other volunteers), help resolve various medical issues by communicating between patients and doctors, speed up the registration process, help reconnect family members lost in the chaos of the camp, and prevent scams targeting the new arrivals," she explained.
Although much of Afshar's research in the master's program focused on ISIS or rebuilding the broken state of Afghanistan, the people she met at the camp gave her a clearer picture of the devastating consequences of the ongoing extremism.
"I met children who witnessed ISIS behead their neighbors in Kunduz, Afghanistan; a badly beaten Syrian mother whose husband forced her to flee because he was forced to join ISIS; an Iraqi father who lost his entire family except for his severely traumatized 3-year-old in a U.S. drone strike; as well as hundreds of other heart-breaking stories," She recalled. "The scale of human suffering from war and poverty, and the full ramifications of the international community's failure to act were clear from the people sitting in front of me telling stories over a cup of tea."
GATHERING DATA FOR HUMAN RIGHTS PROTECTION
The war in Syria began while Kevin Turner (MA '03) was working as the desk officer for Israel and Palestine at the U.N. Office of the High Commissioner for Human Rights. The scope of his work had already expanded when the Arab Spring began and his small team was called on to respond to developments in Jordan, Lebanon, Libya, and particularly in Syria. His office was tasked with collecting data for the U.N. Secretary-General about casualties. Since it was difficult to station people in Syria, the High Commissioner's Office went to Jordan, Lebanon and Turkey to gather data from refugees.
"One of the huge challenges was to get credible information from Syria," Turner said. "We couldn't be confident in the certainty of the statistics, but the Secretary-General and the Security Council needed numbers." So Turner connected with a California company whose statistical modeling used various databases to track figures on people killed or disappeared.
"As human rights officers, we want to be change agents and make individuals' lives better," he says. "There are tons of cutting-edge technologies that can be game changers, and technology companies are interested in how they can contribute. So we need to be able to engage with software development companies, researchers and people in the tech world who can help."
Recently reassigned to Colombia, which has one of the largest internally displaced populations due to its decades-long civil war, Turner sees the future of human rights work being revolutionized by technology.
DIANA KUTLOW, MA
is the director of development and alumni relations at the Kroc School of Peace Studies. As an alumna of the MA program, Kutlow has a personal interest as well as professional responsibility for building a strong alumni network connected to current students for internships and mentoring, to the Kroc School and its institutes for partnerships, support and guidance, and to USD for continued career development.