Community Resilience to Violence
Insights from Baghdad and Other Complex Systems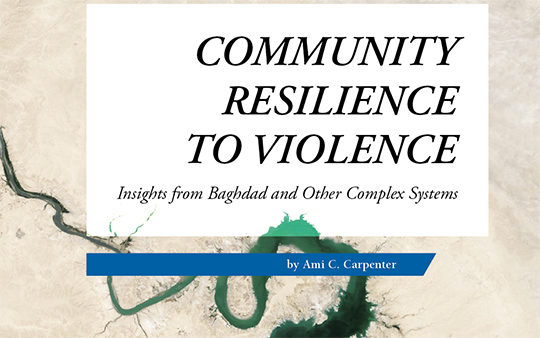 begin quote

Consider the real-time monitoring and reaction of smart electrical grids, or the way T-cells lie dormant but are activated to destroy viruses. Resilience to violence is also based on real-time monitoring and reaction by neighbors and residents...
After the U.S. invasion of Iraq in 2003, sectarian tensions flared between Sunni and Shia Muslims. Armed groups intentionally provoked these tensions by bombing mosques important to each community and attacking people. They wanted to start a civil war. Violence spread throughout Baghdad, but it did not spread everywhere. I studied five neighborhoods where Sunni and Shia residents successfully prevented fear and anger from dividing the people who lived there.
Explaining their success — their resilience to violence — lies in learning from other complex systems that anticipate disruption, heal themselves when they are breached, and reorganize so they retain their core purpose in the face of shocks.
Consider the real-time monitoring and reaction of smart electrical grids, or the way T-cells lie dormant but are activated to destroy viruses. Resilience to violence is also based on real-time monitoring and reaction by neighbors and residents — people who can spring from "dormancy" into action to intervene in crisis situations.
In the Baghdad neighborhoods I studied, for example, community members acted as informal mediators in arguments that began to break out during everyday conversations. This was crucial. People can come to view violence as acceptable when others systematically disrespect their social identity. That's just what was happening as young men (many recently unemployed after the fall of Saddam Hussein) gathered on street corners to discuss the new political situation, which had reversed power from the minority Sunni to the majority Shia sects. The climate of fear and uncertainty was such that discussion turned into arguments about the legitimacy of each group's claim to power.
Disrespecting people can quickly spiral into conflict. But just as T-cells interrupt a virus, the informal mediators in certain Baghdad neighborhoods cooled tempers and talked people out of vengeful acts. These interventions tamped down the feeling of being attacked and the gut response to attack back. The end result is that they preserved connectivity between different groups in the community — and here is where the simple information protocol at the heart of the internet (Transmission Control Protocol/Internet Protocol, or TCP/IP) can teach us something else about community resilience to violence.
Protocols are rules for sharing information inside a system. TCP/IP was designed for maximum connectivity: iPads can talk to robots and any other software application on the network. In conflicted communities, protocols are often based on mistrust, suspicion and projection of power. "All of us operate from a system of values and beliefs that defines what we do and what we stand for," writes gang interventionist Aquil Basheer1. Violent actors operate from — and aim to shift others into — a system of values and beliefs that legitimizes violence and depersonalizes other human beings into faceless enemies. Actions exchanged on this basis reinforce conflict spirals by "confirming" people's worst fears about "the other", and shutting parts of a whole system (groups, organizations, individuals) off from each other.
In resilient communities that say "no" to organized violence, protocols are based on authenticity, connectivity and resistance to aggression. Actions exchanged on this basis reinforce social trust between groups and a security-for-all approach. The spontaneous community mediations in Baghdad were based on this protocol, and so was the more formal program by local leaders to organize young men into peace and security guards for the neighborhoods. Being a peace and security guard had the same attractive features as what sectarian militia groups offered — struggle, sacrifice and comradeship — and satisfied the quest for identity, social recognition and desire for productive engagement that can shift youth trajectories away from violent groups.
This, however, is an ongoing task that requires continuous investment by individuals, community organizations and civil society groups — supported by governments. Indeed, the return of sectarian violence to Baghdad in the last few years is a sobering reminder that there is no easy formula for resilience to violence.
However, there is a model for community resilience to sectarian violence, which I developed through my research in Baghdad and have used to train representatives from Kenya, Somalia, Morocco and Tunisia through the U.S. Institute of Peace's program on Countering Violent Extremism. My latest research project assessed the phenomenon of gang-involved sex trafficking in my own city of San Diego. Youth involvement in gangs, and gang involvement in underworld economies, are a complex and pernicious form of community violence. The resilience approach to preventing individuals from joining violent groups, such as ISIS or al-Shabab or local gangs, means supporting communities to diagnose the threats, reject the call by violent actors, actively intervene in local conflict resolution, and address youth marginalization at the local level where recruitment occurs. In the end, everyone must be working toward the same goal — preventing the slide into violence and making communities safer, healthier, more connected places.
AMI C. CARPENTER, PHD
is an associate professor of conflict resolution at the Kroc School of Peace Studies, where she teaches courses on peace and conflict analysis, and international negotiations. Her research focuses on community resilience to violence and the criminal dimensions of political conflicts.