How Do We Defy Extremism? The Key May Be Identity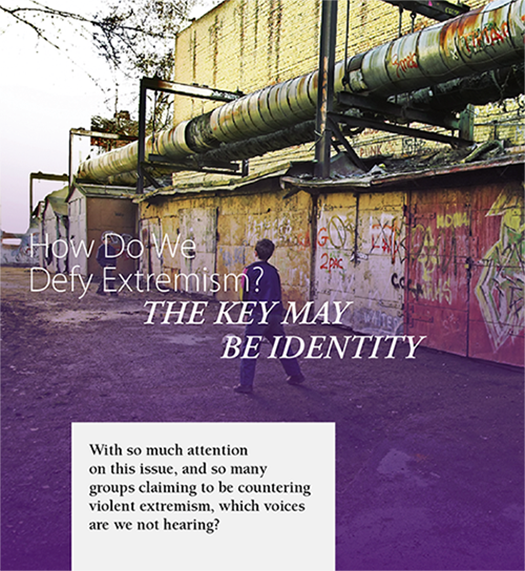 begin quote

With so much attention on this issue, and so many groups claiming to be countering violent extremism, which voices are we not hearing?
In Bosnia in 2015, a group of over 50 experts from throughout Europe stood in contemplative silence as an interfaith prayer was read by men and women who identified as Muslims, Christians and Jews. Surrounding us were nearly 8,000 gleaming white gravestones, markers of the genocide carried out in Srebrenica nearly 20 years ago to the day.
The delegation at the Potacari Memorial Center — visiting as part of the Institute for Peace and Justice's Europe Regional Dialogue on Defying Extremism — included men and women, religious leaders and those who didn't identify with a religion, policymakers, peacebuilders and former extremists from over a dozen countries.
In a small room above what had been the U.N. compound where the forcibly displaced Muslim population from the area had gathered for protection, only to find none — our diverse group listened to the stories of survivors from the organization known as Mothers of Srebrenica. In the face of threats and persistent impunity, the women still continue to search for the bodies of their loved ones. Together, we discussed what justice might look like in the face of violent extremism.
The horror of terrorist attacks and the actions and ideologies of violent extremist movements have been dominating headlines around the globe. "Countering Violent Extremism," commonly referred to in policymaking circles as CVE, is an often used concept and acronym here in the U.S. and across the world. But it is also controversial, as there is no agreed definition of what constitutes "violent extremism," let alone what is entailed to "counter" it.
For many Americans, the ferocity of violent extremism was manifested on 9/11. Today in the Western world, extremism is often associated with ISIS, al-Qaeda, Boko Haram and the Taliban. But extremism occurs in many other settings, is not limited to Islam, and hides under the guise of numerous religions and identities.
In Sri Lanka and Myanmar, Buddhist extremist groups promote intolerance and the oppression of minorities. Muslims in Mindanao in the Philippines assert that during the more than 40-year conflict there, the government has used tactics indistinguishable from those committed by groups sometimes labeled "terrorist." And in Europe and the United States, white supremacist movements are proliferating and have been responsible for significant violence, yet are rarely considered "violent extremism" in mainstream discourse.
While debate continues on the definition of violent extremism, its effects on communities and countries is unrelenting — from Aleppo to Brussels, Tel Aviv to Istanbul, Paris to Baghdad, Quetta to Garissa, Sittwe to Orlando, San Bernardino to Zamboanga.
When we started our initiative on Defying Extremism, and as I've traveled to Bosnia, the Philippines and Kenya to explore this topic, I have been curious: In all those places and communities, what is behind the extremist groups' power? What does CVE really look like in these contexts? With so much attention on this issue, and so many groups claiming to be countering violent extremism, which voices are we not hearing?
These dialogues have highlighted hundreds of perspectives. While the role of economic underdevelopment, local corruption and geopolitical conflict in fueling extremism are contributing factors, over and over again, those with the most intimate experiences of extremism discuss the importance of identity. In every context, our participants and the groups that we have met with spoke of men who feel disempowered or emasculated by poverty or conflict; of young girls feeling a lack of agency in their lives; of youth seeking redemption from "sins" or feeling tarnished as survivors of sexual violence.
Again and again, I have heard extremist groups appealing to youth searching for meaning. They offer agency, a sense of belonging, the promise of divine redemption, financial incentives for themselves and possibly their families, a sense of power and adventure, a call to work for something larger than themselves.
These quests for meaning, power and belonging are central to our human experience. As long as policymakers, religious leaders, families and communities are not offering a compelling alternative of belonging, extremist groups will continue to find easy recruits. However, when diverse perspectives come together — such as in our regional dialogues — to understand and grapple with how to solve the human dimensions of this complex crisis, we can begin to develop societies in which extremism has no oxygen in which to survive.
JENNIFER FREEMAN, MA
is senior program officer for women, peace and security at the Kroc School's Institute for Peace and Justice and oversees the Women PeaceMakers program and the Defying Extremism initiative, while also teaching a course on "War, Gender & Peacebuilding". She is pursuing her PhD in leadership studies at the University of San Diego.