Torero Athletics
Justin Wiebe
Wiebe named WCC Golfer of the Month
USD junior Gunner Wiebe (Denver, CO), who won both individual titles at the two golf tournaments USD competed in during the month of April, has been named the West Coast Conference Player of the Month as well as a San Diego Hall of Champions Star of the Month.

Two Former Toreros Attend NY Giants Rookie Minicamp
Two former players for the University of San Diego Toreros attended the New York Giants' rookie minicamp this past weekend. Ben Hannula '08 and Mitch Ryan '08 both last played for the Toreros during the 2008 season. Click here for more.

Tim Mickelson tabbed WCC Golf Coach of the Year
The West Coast Conference released their annual golf awards on April 29 and Torero coach Tim Mickelson was named the 2010 WCC Coach of the Year. In the midst of his 7th year at USD, this is Mickelson's third coach of the year honor and his first without sharing it with one of his peers. Currently ranked 27th in the nation (Golfstat.com), this season the Toreros have won five team titles and finished in the top-5 in ten of their thirteen events. Click here for more.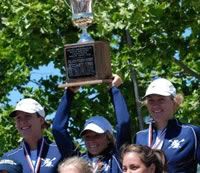 Toreros Row to Two 1st Place Finishes And Grab The Top Team Points For Division 1 at WIRA'S
For the first time in program history, the Toreros became WIRA Champions in the Varsity 4 taking first place with a time of 7:42.8. USD rowed to another first place finish in the Novice 4 event capturing first place with a time of 7:54.5, a four second lead over WCC rival LMU. Congratulations to our women's crew team!



Summer Sports Camps
When: throughout Summer 2010
Where: USD Athletic Facilities
Details: Summer Sports Camps for all ages and skill levels led by Division I coaches on the USD Campus. USD alumni receive discounts! Camps for youth, high school age and adult participants are available in individual sports — baseball, boys and girls basketball, football, boys and girls soccer, softball, strength and conditioning, swimming, boys and girls tennis and volleyball. There is an all-sports camp option for boys and girls ages 6-12 who want to learn basketball, tennis, baseball and activities such as archery and capture the flag. The cost and camp schedules vary for each sport.
For more information: please visit www.usdcamps.com.

College of Arts and Sciences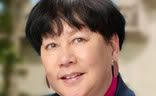 Professor Judy Liu
Sociology Professor to receive Teaching Career Award
Professor of Sociology Judith Liu, PhD is the 2010 recipient of the Dean S. Dorn Outstanding Contributions to Teaching Career Award. This award honors Liu's contribution and impact on the teaching of sociology. Each year the Pacific Sociological Association honors the exceptional teaching ability and efforts of a professor who has made an impact on the field of sociology over the course of their career teaching. Click here for more.

Women in the Workforce
NBC 7 San Diego -- Lori Watson, PhD, chairs women and gender studies at University of San Diego and says society undervalues the dual role of women as employees and caretakers. "People are much more likely to remember the times when a woman left early to deal with her kids than when she stayed late," Watson said. Click here for more.

Alumnus Justin Franklin '08 to Show Film at Cannes
The work of USD alumnus Justin Franklin has been accepted into the prestigious Cannes Film Festival. The festival is set to be held May 12 to May 23 in Cannes, France. Franklin will be showing his short film "Lying Next to Larry" to many prominent filmmakers. Congratulations to Justin! Click here for more.

Hahn School of Nursing and Health Science
Elaine Rutkowski PhD '08
Alumna Runs Her 5th Boston Marathon While Fighting Childhood Obesity
Congratulations to alumna Elaine Rutkowski PhD '08, who ran her 5th Boston Marathon recently! Dr. Rutkowski, PhD, RN, CNS, PHN, is an assistant professor in the nursing department at Cal State Fullerton and has been teaching there since 2001. What she believes: "Actions speak louder than words. It is a very powerful message to my nursing students when they hear about my running passion and commitment to search for answers to the obesity epidemic." She is involved in research on the topic of Adolescent Obesity and Activity Levels of Families with Adolescents.

Congratulations Are in Order
Congratulations to Dr. Roger Strong, PhD '08, who was recognized with an End of Life Nursing Education Consortium Award for his outstanding work in Latin America. Dr. Strong attended the Fifth International Conference on Palliative Care in Buenos Aires, Argentina, where he gave a podium and poster presentation. Also, congratulations to Dr. Linda Urden DNS '90 who has been invited to join the Editorial Review Panel for Clinical Nurse Specialist: The Journal for Advanced Practice.

Graduate Research Day
When: Thursday, May 13 at 11:30 a.m.
Where: University Center, University of San Diego
Details: There are a total of 67 posters. Participants are masters, PhD, and DNP students from the School of Nursing. Also participating this year are students from the Marine Science Graduate Program and the School of Leadership and Education Sciences.
For more information: email smerrill@sandiego.edu.

Joan B. Kroc School of Peace Studies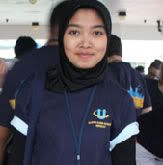 Ainul Fajri
, Current MA Student
Students Attend Clinton Global Initiative Conference
Two graduate students in USD's Peace & Justice Studies program attended the Clinton Global Initiative University (CGIU) meeting held at the University of Miami on April 16 – 18, 2010. President Bill Clinton launched CGIU in 2007 to engage the next generation of leaders from college campuses around the world. Each year, CGIU hosts a meeting of students, university presidents and youth organization to discuss solutions to pressing global issues, including education, environment and climate change, peace and human rights, poverty alleviation, and public health. Ainul Fajri (pictured) and Ernest B. Makulilo, MA students, were invited to attend the meeting. Click here for more.

School of Business Administration

USD MBA Students Win International Business Competition
Events of the last few years have shown business leaders need to be prepared for all sorts of challenges. A team of MBA students from the University of San Diego recently showed they are more than ready to take those on as they took first place in the annual International Collegiate Business Strategy Competition. The team took first place for Best Performance, Best Business Plan and Best Annual Report. Members of the team (pictured, left to right) were Phillip Creed, Lynette Brewer, Kevin Mathy, Aleksandra Krstic, and Jack Sui.


School of Law

New York USD Law Alumni Reception
When: Tuesday, June 22 at 7 p.m.
Where: Four Seasons Hotel, 57 East 57th Street, New York, NY
Details: Join your fellow USD law alumni in New York for a reception with Dean Kevin Cole.
For more information: and to RSVP click here.

U.S. News & World Report Releases 2011 Rankings
U.S. News & World Report released its 2011 ranking of America's top law schools and USD School of Law is ranked 56th overall, the best ranking in the school's history. This ranking is up five spots from last year and reflects the second largest upward movement. In the specialty rankings, USD's tax program is ranked 6th in the country and the law school's part-time program is ranked 10th. Click here for more.

Marty B. Lorenzo '93 (BA), '96 (JD), and Lizzette K. Herrera '03, Share San Diego County Bar Association's Service to Diversity Award
On April 20, Law Alumni Board Member Marty B. Lorenzo, '93 (BA), '96 (JD), and Career Services Advisor Lizzette K. Herrera, '03, received the Service to Diversity Award at the San Diego County Bar Association's (SDCBA) 2010 Annual Service Awards luncheon. Each year, SDCBA recognizes distinguished individuals and organizations in 11 distinct categories for their commitment to giving back and serving the San Diego community. Marty and Lizzette were recognized for their outstanding service and committment to promoting and encouraging diversity within the legal profession. Marty has served on the USD Law Alumni Association Board of Directors since 2006 and is a member of the Executive, Nominating and Diversity Committees. Lizzette has a dual role in USD School of Law's Career Services office as the Public Interest Law Advisor and Diversity Coordinator.

School of Leadership and Education Sciences
Annual Action Research Conference
When: Friday, May 14 through Saturday, May 15
Where: Mother Rosalie Hill Hall, University of San Diego
Details: Interest in action research is growing around the world, and the USD School of Leadership and Education Sciences Action Research Conference (ARC) has been created to serve this growing interest and to link faculty, students, and practitioners in an action research professional learning community. The ARC strives to be the premier action research event in North America and the Pacific Rim for business, health care and education (including counseling, classroom instruction, and school leadership).
For more information: click here.

SGSA Graduate Reception
When: Wednesday, May 19 at 5 p.m.
Where: West Terrace, Mother Rosalie Hill Hall, University of San Diego
Details: Join us for dinner as we celebrate the 2010 graduating class at this annual event honoring the achievements of our newest grads.
For more information: and to purchase tickets contact Kelli Dorey at kdorey-10@sandiego.edu.

MFT Alumni Mixer
When: Thursday, June 3 at 5:30 p.m.
Where: Mother Rosalie Hill Hall, University of San Diego
Details: Please join us along with Marital and Family Therapy Faculty members JoEllen Patterson, Lee Williams and Ana Estrada and your fellow alumni as we celebrate the successful completion of another academic year and greet the newest Marital and Family Therapy Alumni. (Parking located in the garage underneath Hill Hall.)
For more information: contact Erin Weesner at (619) 260-4539 or erinw@sandiego.edu.

ELDA 10th Birthday Celebration
When: Wednesday, June 9 at 4 p.m.
Where: Mother Rosalie Hill Hall, University of San Diego
Details: Dean Paula A. Cordeiro cordially invites you to join her and ELDA faculty, alumni, students, and mentors for heavy hor d'oeuvres, a hosted bar, and good cheer as we celebrate a decade of achievement and success by the Educational Development Leadership Academy here at the University of San Diego. Please RSVP by June 1, 2010. ELDA alumni are encouraged to send photos of themselves and their cohorts prior to the event. Photos can be emailed to Carmen McBride at carmenmc@sandiego.edu.
For more information: Please contact Carmen McBride at (619) 260-8839 or carmenmc@sandiego.edu.
Other News and Events

USD Bookstore
The USD Bookstore announces it's new spring 2010 online catalog available at www.USDBookstore.com! New alumni gear from Nike and new Polos in our Executive Collection are available. All USD alumni receive a 10% discount on gifts and apparel. Visit www.USDBookstore.com today.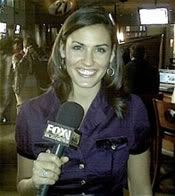 Shelby Holliday '08
Featured Torero: Shelby Holliday '08
Shelby Holliday graduated from USD in 2008 with a degree in Business Administration. She originally planned on playing basketball for the Toreros, but when a back injury forced her to hang up her jersey freshman year, she decided to make the most of her USD experience by getting involved in a wide range of activities. Shelby anchored and co-produced USDtv, studied abroad in Spain, held officer positions within the Eta Rho chapter of Alpha Phi, and pursued numerous internships and jobs outside of class. Taking on new roles and responsibilities served her well, and Shelby discovered her passion for broadcast journalism while interning at the local NBC station in San Diego. Shelby is now working as a reporter and host for Channel One News in New York City, and she is looking forward to staying involved with the USD Alumni Association from the Big Apple. Click here for more about Shelby.


Jonathan Knowling '05
Featured Torero: Jonathan Nowling '05
Jonathan Nowling graduated from University of San Diego's School of Business in January 2005. The School of Business Administration gave Jonathan his entrepreneur spirit. He now lives in Roseville, California where he has founded and owns Rock Hill Lavender.

When asked who his favorite professsor at USD is, Jonathan replied, "My favorite USD professor and class was Latin with Dr. Fendrick. Dr. Fendrick is an amazing person and always has great stories about his life experiences. You can always find him in the mornings at Aromas doing his crossword puzzle in the corner." Click here for more about Jonathan.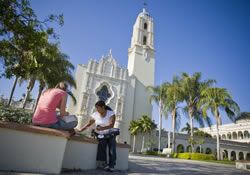 Alumna Makes Pioneer Gift
Maureen Partynski '82 took advantage of a unique opportunity to give back to her alma mater while securing additional income during retirement. Partynski completed a gift arrangement that could be viewed as a "charitable" supplemental retirement plan using a deferred payment gift annuity. The plan, administered by USD, was funded by Partynski and will begin making guaranteed fixed income payments to her for life at a future date of her choosing. The longer she waits the bigger the payments.

Call the Office of Planned Giving at (619) 260-4523 for more information on how you can make a similar gift to USD.

This is not legal advice. Any prospective donor should seek the advice of a qualified estate and/or tax professional to determine the consequences of his or her gift. The California Life Insurance Guaranty Association does not back up payments of annuities.

Continuing Education for Alumni




Join us for one of these continuing education oppotunities!



If you are having trouble viewing this email please click here for the online version of the Alumni e-newsletter.